West Palm SBK Fest 2023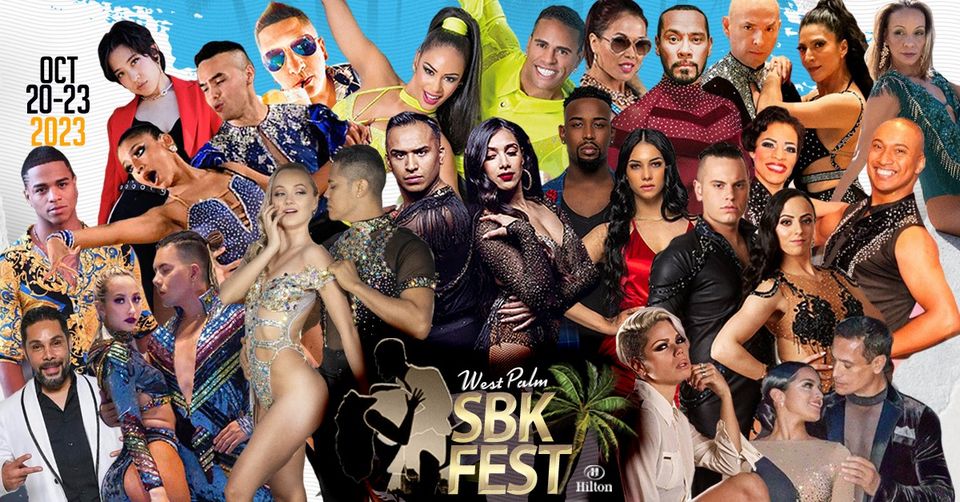 Танцы:
Сальса, Кизомба, Бачата
Мероприятие:
Уикенд, Фестиваль, Вечеринка, Уроки
Билеты:
https://buytickets.at/westpalmsbkfest/784952
Описание:
Discover West Palm SBK Fest.
- October 20 - 2023
Get ready for the BIGGEST & Most Fun Dance Weekend with 3 Days of Non-Stop Partying! Over 25 Master Dance Workshops on Salsa, Bachata, Kizomba, Cha-Cha-Cha & Mambo + Spectacular World Dance Champions & Pro-Am Dance Performances - Pool Parties - Nights Dance Social -Saturday Dinner Banquet - FREE PARKING - Cash Bar Plus More... The Hottest Salsa Bachata Kizomba Dance Festival in Palm Beach County. Get ready today... !!!!
Featuring Dance Artist ...
ADRIANO LEROPOLI & SAMANTHA SCALI - Canada/ Italy
DeJON POLANSKI & CLO FERREIRA - Lousiana/ Venezuela
BRANDON AYALA & MICHELL MORALES -Oregon/ N.Y
INDIRA CUETO & JORGE L. FERNANDEZ - Cuba/ Vegas
YARITZA ARBOLEDA & DIEGO RIVERA -N.Y/ N.J
CLAIRE HONERMAN & JOSE SERRANO - Chicago
SADE MONTOYA & BETO FERNANDEZ - L.A/ Mexico
KATYA IVANOVA & JAVIER REBOLLAR - California
TINA CAVICCIO - Boston
WENDY & RODRIDO JIMENEZ - Charlotte
BRAYAN LlAMOZA - Venezuela/ N.Y
ARLETTE GUERRA - New York/ N.Y
CONNIE LEE - Rome/ Georgia
MORE IS COMMING .....!!!!
Dance Workshops 10:00am to 5:00pm
Dance Showcases 8:00pm
Dance Social 10:00pm to 4:00am
Location --
Hotel Hilton by Palm Beach Airport - 150 Australia Ave West Palm Beach.
Booking Link:
ссылка
HOSTED BY ...
LtDS WEST PALM BEACH / TITO ECHEVARRIA/ JIMMY RUMBA/ CINDY GUZMAN / MANNY MORALES
SPONSORE BY ...
BORN TO SALSA , DANCE SOUTH FLORIDA, ORLANDO SALSA CONGRESS, PLANETA SALSA.
Please note - Time and Scheule is subject to change. I.D must be present at Registration Desk Check in, Tickets Purchased before Event Start Date are Transferable.($20.00 fee)
More info @ Westpalmsbkfest.com
LOCATION
Hilton Palm Beach
150 Australian Ave West Palm Beach 33406
Buy tickets
SHARE THIS EVENT
Перейти на главную