Salsa Paradise 5 Star Premium All Inclusive Resort & Spa 2023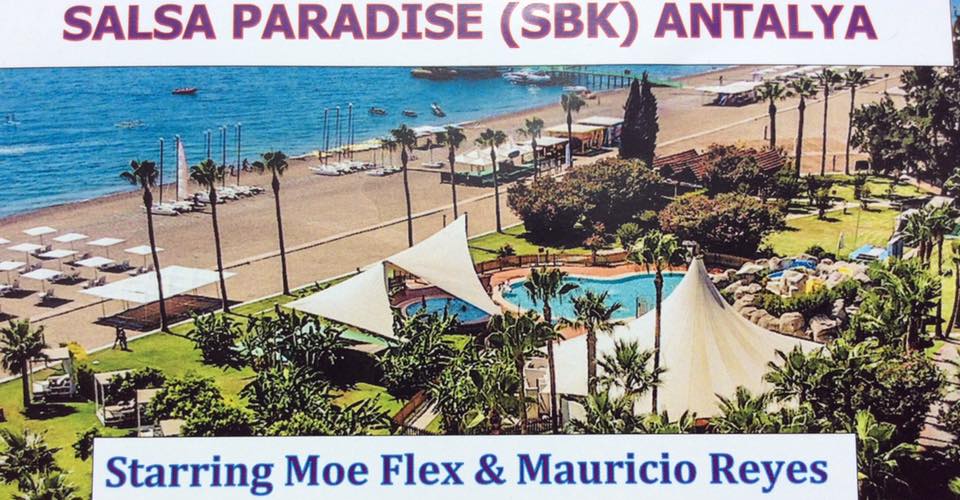 Танцы:
Сальса, Кизомба, Бачата, Зумба
Начало:
2023-09-16 12:00
Окончание:
2023-09-23 20:00
Мероприятие:
Вечеринка
Адрес:
Описание:
Salsa Paradise SBK 16 September 2023
Starring Moe Flex & Mauricio Reyes, teacher DJ MC's + supporting artists.
Dance, Activities, Relaxing Zones, Sports, Food, Drinks & Cocktails.
4 Themed Gourmet Restaurants to choose from.
Celebrating 26 Years of Successful Dance Holidays
***The WOW Factor***
Holiday Video, shows the private resort & bay, dancing, all inclusive free activities & facilities.
Everything has easy access, join in, try out, take lessons, play, relax, do it your way.
Video Link
ссылка
Join The Early Booking Savings Now!
*Early self travel flight bookings from under £200.
*Earn more credits when you book early.
*Resort return transfers from as low as £17.
*Book 1 Beach & 1 Ski holiday, special deal. Call now!
WHATS INCLUDED?
DANCING DAILY - CLASSES - SOCIAL - After Party until late!
Dance Action Holiday dance and social events pass
Daily dance lesson program all levels
Salsa Bachata Kizomba at Beach Club, Theatre & Poolside. Party until 12am + after party
RELAXING ZONES
2 Quiet Pools. 2 Fun Pools. Turkish Baths. Spa. Treatments. Massage.
Masses of shaded Beach & Gardens recliners, wigwams, 4 poster and 5 refreshment bars.
SPORTS & ACTIVITIES - RELAX AS HARD AS YOU LIKE!
Stretch classes, Windsurf, Kayak, Sups, Waterski, Tennis, Walks, Football, Archery, Trapeze, Basketball, Soccer, Volleyball,
Water Polo, Zumba, Pilates, Fitness Circuit, Aqua, Dynamic, Cardio training, Weights and much more!
SKIING - WAKEBOARD - WAKE SURF
Only 5 minutes walk to the pontoon. Early morning normally offers flat water until 10.00
Beginner coaching best time 08.00 daily, closed Saturday
SAILING - WINDSURF - KAYAK
Only 5 minutes walk to the beach watersports. Sailing winds usually build up by 10.00 and peak 12.00 - 15.00
Beginner coaching best time 08.00 daily, closed Saturday
TURKISH GULET PARTY FUN BOAT
Let's get the Dance Music playing as we sail away to a secluded bay. You have the option to swim or snorkel from the boat
TRAPEZE - CIRCUS SKILLS
Juggling. Tightrope. Trapeze with very impressive absail safety harness and net
ALL INCLUSIVE 5 STAR PRIVATE RESORT VILLAGE - No public access or beach vendors, strict security
Restaurants, bars, shops and ATM. En-suite rooms
Gourmet Cuisine. Wines and beers served with meals. Aperitifs and afternoon tea
Drinks served from the bars (beers, wines, soft drinks, spirits, cocktails, fruit juices and hot drinks)
Wi-Fi
On-site dedicated hotel gourmet chefs, sport and entertainment teams
Evening shows and entertainment, followed by night club
Themed Night Garden Parties, 1. White night. 2. Red & White night (Turkish) - Great photo video opportunities
BOOKING OPTIONS
*Fancy staying more than 7 nights?
You could add nights from the Jive week!
Stay Options
Salsa week - 16 September
Jive week - 23 September
Flexi book 6, 7, 10 or 14 nights
Prices include all the above services & activities
Special Smart Flights Saver. Book 6 Days from £640 pp. Call now for this option and availability.
6 Nights Twin/Double £769 pp, or Single £841 pp
7 Nights Twin/Double £882 pp, or Single £966 pp
10 Nights Twin/Double £1260 pp, or Single £1380 pp
14 Nights Twin/Double £1764 pp, or Single £1932 pp
STANDARD OPTION £250 deposit and final balance by 16th July.
SPREAD YOUR COSTS OPTION - £100 deposit and stage payments. Best to book early to benefit.
Call now to discuss the all inclusive booking options.
*Subscribe now to receive holiday announcements & updates!
SELF TRAVEL
As soon your place is confirmed, you can book your flights.
Guidance to book your own flights to fit with our group transfer options.
Flights to Antalya are available from many international airports. Best rates if you book early.
Fancy arriving a day early or adding some tourist days around Antalya or booking a coach tour, please enquire.
COMPLEMENTARY MEDICAL COVER
Club Med Medical Cover. Back up insurance for medical assistance with any injury or illness in resort.
You must still take out your normal holiday insurance and include cover for the activities you wish to take part in.
See the latest T&Cs by requesting a holiday booking form.
BOOKING ESENTIALS
To join our dance, social and activities, you must book the holiday directly with Dance Action Holiday and you will obtain a dance social and activity event pass.
Book by latest 16th July. Late bookings if still available, are more expensive.
Self Travel £17 return resort transfer offer. Secure your seat, T&Cs apply.
EARLY BOOKING BENEFITS INCLUDE;
More room choices
Share options if you require a sharer
Discuss flights and transfer options
Secure the early booking deals!
Call or message now to request a booking pack or discuss the booking options.
Peter +44 (0)7946-071639 peter@danceholiday.co.uk
Перейти на главную