PragKizer Weekend: UrbanKiz League-1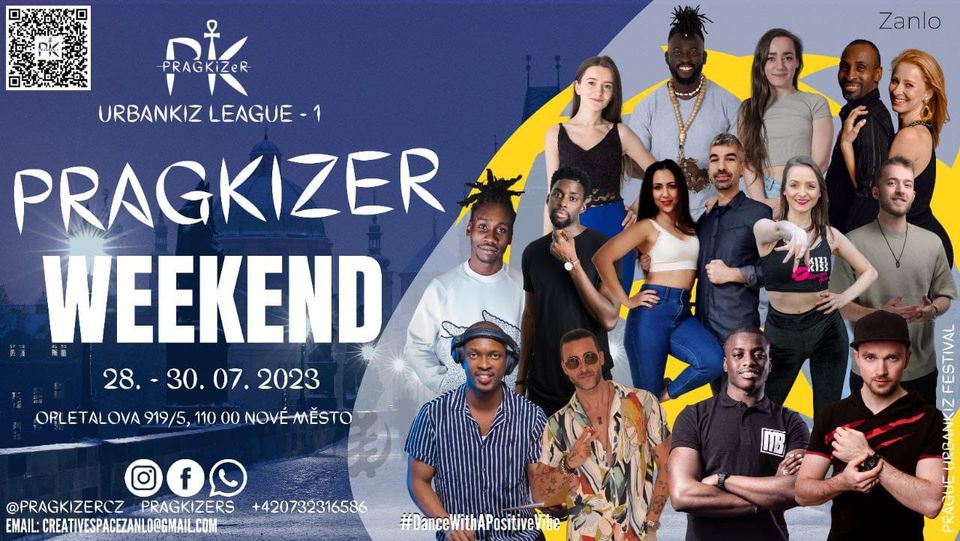 Танцы:
Кизомба
Начало:
2023-07-28 10:00
Окончание:
2023-07-31 00:00
Мероприятие:
Уикенд, Фестиваль, Уроки
Адрес:
Opletalova 919\/5, 110 00 Praha, Česká Republika
Описание:
PragKizer Presents: UrbanKiz League-1 (Prague UrbanKiz Festival)
Variety Workshops and Nonstop Dancing.
⚜️UrbanKiz
⚜️Tarraxo
⚜️Douceur
⚜️Afro
Date: Friday 28th to 31st July.
Location: V-LIFE, Opletalova 919/5, Nové Město in Prague, Czech Republic 🇨🇿
....................................................................................
⚜️3 Parties>>3 Socials>>Group Teachers Workshops>>Prague City Tour-Boat!
⚜️Most Valuable Dancer: "Lead" x "DamsKiz"(Dance and Take Names to nominate them to win-Full Pass Only)
⚜️Djs???
🎚💽
☆Danceable DJ Berry 🇬🇭 🇳🇪 🇧🇯 🇹🇬 🇲🇱
☆DJ F.A.Z.E Spain 🇪🇸
☆DJ MALONCY BEATZ 🇳🇱
☆ DJ MADEJ 🇵🇱
☆DJ T'PEAK
☆ ☆ ☆ ☆ ☆
⚜️Teachers⚜️
FELIX 🇦🇹
AJDA 🇸🇮
EUGEN & DIANA🇷🇴
ANNEMIEK 🇳🇱
SANI🇬🇭🇨🇿
ANDRE & NORA🇨🇿🇭🇺🇧🇷
DAWOU TARRXO🇫🇷
OLHA ZIN 🇺🇦
☆ ☆ ☆ ☆ ☆ ☆
⚜️Guest Dancers???
KIZZKISS DANCERS
KizzTalk-Munich
TOVO
GUILLAUME
NELLY
SPELA
ANNA
SARA
MOHAMED
ANJA
More to come...
⚜️Photo???
📸ASYA🇺🇦
🎥
More Details Soon...!
⚜️PASS INFORMATION⚜️
"PRAGKIZER ANNIVERSARY" FULL PASS: 53EURO (1,250CZK) Till 8th March 2023.
⚜️FULL PASS L/F: 80EURO (CZK 1900)
⚜️BOAT TRIP: 20EURO (CZK 475)
⚜️Tickets Sales are Open:
ссылка
⚜️FILL THIS FORM (Bank Payments)
https://forms.gle/UgyGdMgnqMhsM31c7
For Bank Transfers:IBAN CZ1855000000003159962002
Local Transfer: Account No. 3159962002/5500
Message To Recipient: Name and Surname + "PragKizer Weekender"
⚜️CANCELLATION CONDITIONS
ALL PASSES ARE NON-REFUNDABLE BUT NAME CHANGED IS ACCEPTED TILL 23.7.2023.
In case of cancellation of the event all tickets are transferred to the next year's edition.
⚜️ACCOMMODATION DETAILS:
As our venue is directly in the city centre there are a lot of options for your accommodation. If you don ´ t want to stay a bit far from our venue we highly recommend to also compare other hotel prices away from the venue.
Hostel Mandarinka – 1 minute walk from our venue.
http://www.hostelmandarinka.cz/
Grandium Hotel Prague – 2 minutes walk from our venue.
https://www.hotel-grandium.cz/cs/
Ramada Prague City Centre - 2 minutes walk from our venue.
https://www.hotelramadapraguecity.cz/
EA Hotel Rokoko – 4 minutes walk from our venue.
https://www.hotelrokoko.cz/
Exe City Park – 4 minutes walk from our venue.
https://www.execitypark.com/?referer_code=lb0gg00yx
In case of any questions, don't hesitate to contact us to help you arrange accommodation.
All RIGHTS RESERVED.
#DanceWithAPositiveVibe
PragKizers®️
Перейти на главную