Official – Kizz Me More Festival 2023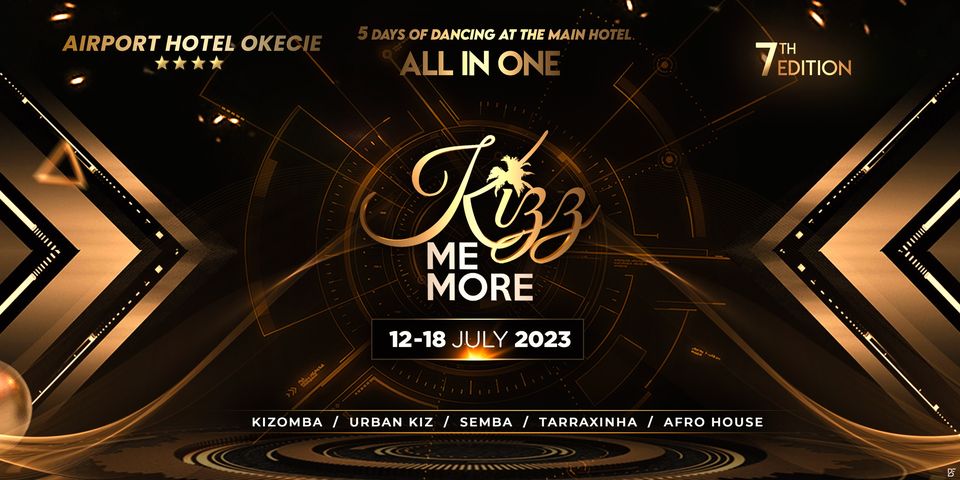 Танцы:
Зук, Кизомба, Афрохаус
Начало:
2023-07-12 22:00
Окончание:
2023-07-18 04:00
Мероприятие:
Фестиваль, Вечеринка, Уроки
Адрес:
ul. Komitetu Obrony Robotników 24
Билеты:
https://my.weezevent.com/kizzmemore
Описание:
🔴 All in one venue🔴 International artists🔴 5 Night parties🔴
🔴 4 Socials 🔴 High-end sound system-Dancefloor🔴 No shows 🔴 Taxi dancers
KizzMeMore is proud to present.... THE Only Kizz Event in Poland with so many good dancers from all over the world!
YES, this year we will dance, dance and dance a bit more. Kizomba, Urban kiz, Taraxxo, Afrohouse, Socials, Parties, Workshops. Wooden floor, high-end sound system, all under one roof… do you need anything else?
► THE FUN IS GUARANTEED!
5 unforgettable days, enriched with lots of emotions, glamorous programmes, hot parties till dawn, special dedicated classes, trips and many pleasant surprises.
5 days non stop parties and entertainment!
Become a part of the kizzmemore experience!
Because... this one cannot be missed!
Over the years, we have grown into an amazing community of dancers, performers, and artists coming together every year to share with one another our passions and our lives. Whether it's your first time or your 7th time, come celebrate with us and share your progress.
We will have some very special surprises for you this year to celebrate our seven years of building community and celebrating African/European music and dance.
██▓▒░░ 𝐋𝐈𝐍𝐄 𝐔𝐏 𝐃𝐉𝐒 ▒░▒▓██
🎧 ✌️MORE🎧 ✌️MORE🎧✌️ MORE🎧 ✌️
🔥Dj LENHY 🇫🇷 FRANCE
🔥Dj VAXX 🇫🇷 FRANCE
🔥Dj SAI SAI 🇫🇷 FRANCE
🔥Dj BARTEF 🇵🇱 POLAND
🔥Dj GD TIWOSH 🇫🇷 FRANCE
🔥Dj KARL CONKLASS 🇫🇷 FRANCE
🔥Dj MADARA 🇫🇷 FRANCE
🔥Dj MATT 🇫🇷 FRANCE
🔥DJ RUDE MUSIC 🇫🇷 FRANCE
🔥DJ GEERO BEATZ 🇫🇷 FRANCE
🔥Dj FOUSS SMILE 🇫🇷 FRANCE
🔥Dj CASS 🇫🇷 FRANCE
🔥
🔥
🔥
Many more to be confirmed!
STAY TUNED!
██▓▒░░ 𝐋𝐈𝐍𝐄 𝐔𝐏 𝐀𝐑𝐓𝐈𝐒𝐓𝐒 ▒░▒▓██
✌️KIZZ✌️✌️ME ✌️✌️MORE
🔥Willy Dianza
🔥Asia Voronova
🔥Aimé Beurt
🔥Angie
🔥 Kalypso
🔥Adé
🔥Moussa Dkc
🔥Nora
🔥Fola Flow
🔥 Romeo-Seph
🔥Yace
🔥Camille
🔥Michael Daimon
Many more to be confirmed!
STAY TUNED!
Our very special DJs will perform their best for you in 2 dance halls.
►Hall1 𝐔𝐑𝐁𝐀𝐍 (500m2)
▪️urbankiz
▪️Tarraxo
▪️Douceur
▪️AfroHouse
▪️WorlMusic
►Hall2 𝐆𝐇𝐄𝐓𝐓𝐎 𝐙𝐎𝐔𝐊 (300m2)
▪️Ghetto zouk
▪️Kizomba
▪️Semba
▪️Kompa
▪️Tarraxinha
██▓▒░░ Taxi dancers ▒░▒▓██
COMING SOON
██▓▒░░ PASS ▒░▒▓██
►FULL-PASS (Includes all workshops, socials & parties) :
►PARTY-PASS (Includes all socials & parties)
██▓▒░░ ONLINE BOOKING ▒░▒▓██
PRICES UP EVERY 5TH OF THE MONTH
You can buy your ticket quickly and easy at :
https://my.weezevent.com/kizzmemore
██▓▒░░ THE TRAILER ▒░▒▓██ :
https://www.facebook.com/KizzMeMoreFestival/
🔴 🔴 𝐏𝐇𝐎𝐓𝐎𝐆𝐑𝐀𝐏𝐇𝐄𝐑/𝐕𝐈𝐃𝐄𝐎𝐆𝐑𝐀𝐏𝐇𝐄𝐑:
Alla Luska
Sm3 Visuel
Mister Zoom
██▓▒░░ 𝐇𝐎𝐓𝐄𝐋 ▒░▒▓██
4-star hotel
Wellness center
263 Rooms with the size of 25 m2
Breakfast included
Fitness room
Located close to Chopin Airport (WAW)
██▓▒░░ 𝐏𝐑𝐎𝐆𝐑𝐀𝐌 ▒░▒▓██
Coming soon
██▓▒░░ 𝐂𝐀𝐍𝐂𝐄𝐋𝐋𝐀𝐓𝐈𝐎𝐍 𝐎𝐏𝐓𝐈𝐎𝐍𝐒 ▒░▒▓██
The possibility of reselling your ticket by changing your name is available up to 2 weeks before the event starts.
The ticket can only be listed at its original price.
All purchases are non-refundable unless the festival is affected by any health crisis.
██▓▒░░ 𝐂𝐎𝐍𝐓𝐀𝐂𝐓 ▒░▒▓██
Still need help?
Contact us on our page Kizz Me More
Drop us an email, otherwise, we'll see you in the fields!
Перейти на главную