ODAC Singapore Cuban Salsa Fiesta 2023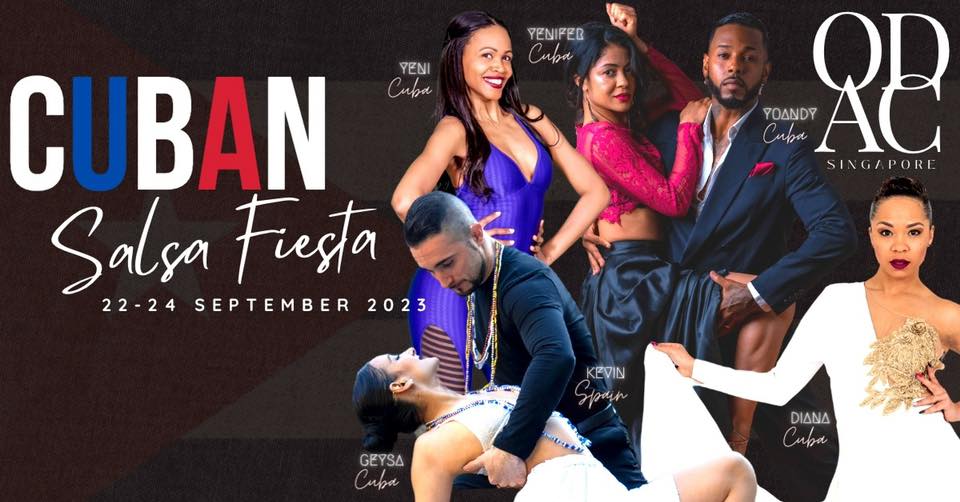 Танцы:
Сальса
Начало:
2023-09-22 16:00
Окончание:
2023-09-24 22:00
Мероприятие:
Вечеринка, Уроки
Адрес:
Singapore \/ Singapura \/ 新加坡 \/ சிங்கப்பூர்
Билеты:
https://odacsingapore2023.eventbrite.com/
Описание:
Feel the heat again for the second time as ODAC Singapore's Cuban Salsa Fiesta 2023 brings to you renowned artistes from the Cuban Salsa communities across the globe in the heart of Singapore!
Specially curated for you by Cuban Salsa lovers in Singapore, here's your chance to experience the culture and knowledge of Cuban dance through dedicated workshops, masterclasses and exclusive parties from the 22-24 September!
🔥16+ hours of Workshops
🔥3 Parties
🔥6 hours of Masterclasses
=== Artistes Line up ===
⭐ Yoandy Villaurrutia & Yenifer Lavin (Cuba)
⭐ Diana Rodriguez (Cuba)
⭐ Yeni Molinet (Cuba)
⭐ Kevin Cano & Geysa Martinez (Spain / Cuba)
=== DJ Line up ===
🎧 DJ El Gato Volador (Italy)
🎧 DJ Tau Sydney (Australia/South Africa)
🎧 DJ Yuma (Switzerland)
🎧 DJ Camille (France)
=== Tentative program schedule ===
Friday
✅ Masterclass 4.45pm-6.45pm
✅ Masterclass 7pm-9pm
✅Party 9.30pm-2am (100% Timba)
Saturday
✅ Masterclass 11.30am-1.30pm
✅ Workshops 1.40pm-7.20pm
✅ Party 9.30pm-2am (100% Timba)
Sunday
✅ Workshops 12pm-5.40pm
✅ Party 9pm-1am (100% Timba)
* Details on private classes will be made available at a later stage
* Masterclasses are not included in the Full Pass
=== Venue ===
TBC (city center)
=== Registration & Payment ===
🎞 Online purchase is available via eventbrite:
https://odacsingapore2023.eventbrite.com
🎞 Google form for offline payments:
https://bit.ly/ODAC2023Gform
Registration is complete upon payment made via PayNow to Tokumori Sasada (kindly refer to the QR code in the form for PayNow transfer) or your respective regional promoters.
For bank transfers and other methods of payment, please contact odacsingapore@gmail.com.
* Tickets are transferable (at an admin charge of SGD30 up till 31 Aug) but not refundable. ** International participant discounts are only applicable for attendees from the same region. Top up will be required if transfers are done out of attendee's region.
Перейти на главную