Musseque Kizomba Festival Summer II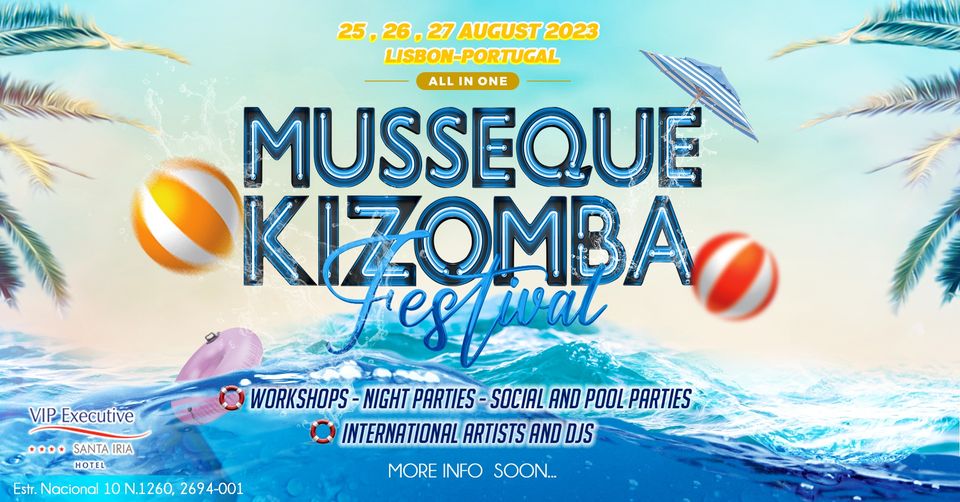 Танцы:
Трайбл, Кизомба, Афрохаус
Начало:
2023-08-25 13:00
Окончание:
2023-08-27 04:00
Мероприятие:
Фестиваль, Вечеринка, Уроки
Адрес:
Estrada Nacional 10 nº 1260
Билеты:
https://my.weezevent.com/musseque-kizomba-festival-summer-ii
Описание:
The word Oriunda originates from Kinbundo, one of the official languages of Angola. The ghetto is the biggest source of inspiration of Angolan dances like Kizomba, Semba, Afro-House, Kuduro and Rebita etc.
WHAT TO EXPECT FROM THIS EDITION:
- NEW LOCATION, HOTEL 🌟🌟🌟🌟
- QUALITY TEACHERS
- THE BEST DJS OF THE MOMENT
- POSITIVE AND CONSTRUCTIVE ENERGY
- DANCERS FROM AROUND THE WORLD
- KIZOMBA WORKSHOPS, SEMBA, AFRO-HOUSE, KUDURO, REBITA, AFRO TRIBAL
- THEMATIC PARTIES
- ANIMATIONS DURING THE FESTIVAL
- POOL PARTY
We'd like to welcome you to live this unique experience.
🔺Tickets🔺
https://my.weezevent.com/musseque-kizomba-festival-summer-ii
Prices:
April: 75€ Fullpass
Couple Pass 120€
May: 85€ Fullpass
Couple Pass 150€
June: 95€ Fullpass
Couple Pass 170€
July: 105€ Fullpass
Couple Pass 190€
August: 115€ Fullpass
Couple Pass 200€
🌟🔶Teachers🔶🌟
Mestre Petchu
Zé Barbosa & Marta
Marcio Junqueira
Tony Viser & Carla
Carlos Kamba & Anna Maria
Paulo & Lanna
Esteban & Sandra
Manu & Olivia
Mauro D-One & Celia
🌟🔊Deejays🔊🌟
Dj Oceano
Dj Bakongo
Dj Pausado
Dj Russelius
Dj Yuri G
🏨HOTEL🌟🌟🌟🌟 ☑️
VIP Executive Santa Iria Hotel,
Estr. Nacional 10 nº 1260, 2694-001 Santa Iria de Azoia
ATT: To make the hotel booking send an email to request the form to enjoy the best prices. Email: Mussequekizombafestival@gmail.com
Перейти на главную