Lisbon weekendance 2023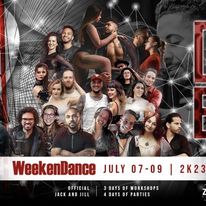 Танцы:
Зук
Начало:
2023-07-07 17:00
Окончание:
2023-07-09 23:30
Мероприятие:
Уикенд
Адрес:
Rua Her\u00f3is de Chaimite n\u00ba 19 A
Описание:
🇺🇸2nd EDITION LISBON WeekenDance (Brazilian Zouk)🔥
The first edition of this event was just incredible amazing and that's why we couldn't be happier to announce our second edition of this event !!! Come join us for this amazing weekend full of dance, good energy and incredible artists..
In Lisbon.. WE CAN DANCE !!! 🤩
🇧🇷 2ª EDIÇÃO LISBOA WeekenDance (Zouk Brasileiro) 🔥
A primeira edição deste evento foi simplesmente incrível e é por isso que estamos muitos felizes em anunciar nossa segunda edição deste evento !!! Venha se juntar a nós para este fim de semana incrível cheio de dança, boa energia e artistas incríveis..
Em Lisboa.. WE CAN DANCE!!🤩
CONFIRMED ARTISTS / ARTISTAS CONFIRMADOS :
✨ Lucas + Thayná 🇧🇷🇵🇹
✨ Bruno + Raiza 🇧🇷🇵🇹
✨Pilou + Mafalda 🇵🇹
✨Viny + Jessy 🇧🇷🇵🇹
✨Kadu + Carolina 🇧🇷🇪🇸
✨ Arthur + Isa 🇧🇷 🇪🇸
…
✨Much more to be confirmed! 😙
⏰ SCHEDULE / PROGRAMAÇÃO:
📌 SOON MORE INFORMATION !
EM BREVE MAIS INFORMAÇÕES !
🤑PRICES / PREÇOS :
- INDIVIDUAL FULL PASS / PASSE COMPLETO INDIVIDUAL:
115€ (prices will increase every month on the 15th)
- LEADER AND FOLLOW FULL PASS / PASSE COMPLETO PARA CONDUTOR(A) E CONDUZIDA(O):
189€ (prices will increase every month on the 15th)
You can pay though the link bellow 👇
https://www.danceplace.com/li/nx/sZG2ucAj3pbLEBTl
Перейти на главную