Latin Vibes Festival 2023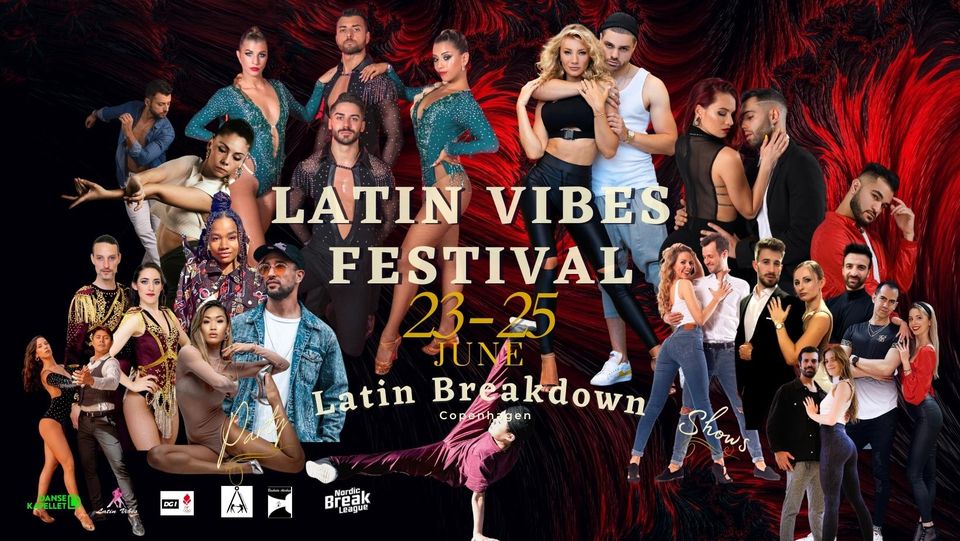 Танцы:
Сальса, Бачата
Начало:
2023-06-23 16:00
Окончание:
2023-06-26 01:00
Мероприятие:
Фестиваль, Конкурс, Вечеринка, Уроки
Адрес:
Билеты:
https://billetto.dk/e/latin-vibes-festival-billetter-739853?utm_campaign=billetto+web&utm_content=1DK&utm_medium=onsite+search&utm_source=billetto+advertising
Описание:
Latin Vibes proudly presents you the inaugural edition of
LATIN VIBES FESTIVAL ✦ 23-25th of June 2023 ✦
Save the date and buy your tickets now! feat Salsa, Bachata, and Breakdance 🕺💃
☀ Incredible line up of International and local artists
☀ +35 hours of workshops in salsa, bachata, hiphop, heels, styling
☀ 3 parties with different dance floors
☀ Exclusive and high profiled SHOW
☀ Latin Break Down event - an exciting break dance event on top of everything
❌ Limited passes available ❌
☀ LOCATION:
Dansekapellet
Kildevæld Kulturcenter
BACHATA ARTISTS
• Melvin & Gatica (FRA/NOR)
• Miguel & Sunsire (ESP/VEZ)
• Sorush & Aiste (SWE/LTU)
• Aitor & Ola (ESP/POL)
• Peter & Julia (SWE/POL)
• Erik & Katinka (DEN)
• Gadir (DEN)
• Felipe & Johanna (GTM/SWE)
SALSA ARTISTS
• Marco Ferrigno (ITA) and his team:
• Linda Veronica Arramendiz (COL)
• Francesco Aruta (ITA)
• Elisa Bonardi (ITA)
• Jessica Patella (ITA)
• Mambo Vikings (SWE/GRC)
• Ruben & Eliana (MEX/ARG)
• Aitor Barredo (ESP)
URBAN ARTISTS
• Uyen DivAsia
+more to be announced!
Welcome to three unforgettable days filled with amazing workshops, social dance parties, shows, breakdance battles, and incredible dance artists.
There will be workshops in salsa and bachata simultaneously throughout the festival, sprinkled with workshops of hip hop, heels, and more! On top of that, the spectacular break dance event will take place Saturday afternoon in the courtyard of our venue Dansekapellet, open for all.
Besides the workshops, come and enjoy our social dance parties in the evening together with the artists! 🕺💃
This is a festival with limited full passes, so you get a chance to know the other dancers and artists better. Please check out the ticket specifications above, regarding which full pass to buy ⬇️
⇨ LOCATION:
Dansekapellet
Bispebjerg Torv 1
Kildevæld Kulturcenter
Bellmansgade 5C
⇨ TICKETS:
[
ссылка
]
Please make sure you buy the correct full pass according to your interest.
IMPORTANT NOTE: Every full pass holder is allowed to every single workshop, however, if the room is filling beyond capacity, the passes corresponding with the workshop genre will be prioritised. (EXAMPLE: if you have a salsa full pass, you are guaranteed access to every salsa workshop. You are also welcome to take bachata workshops, but if the room is filled to max capacity, bachata full pass holders will be prioritised… and vice versa)
⇨PRICES:
Early bird full pass (until midnight 3rd of April 2023): 900 DKK
Regular full pass (until 10th of May 2023): 1100 DKK
Late Bloomer full pass (until event starts): 1300 DKK
Day passes: Info coming soon!
Party passes: Info coming soon!
⇨OFFICIAL HOTELS:
Info coming soon!
Organiser:
Latin Vibes Association
latinvibesdk@gmail.com
@latinvibesdk
Перейти на главную