LATIN DREAMS AMSTERDAM (OFFICIAL EVENT, 2nd EDITION 2024)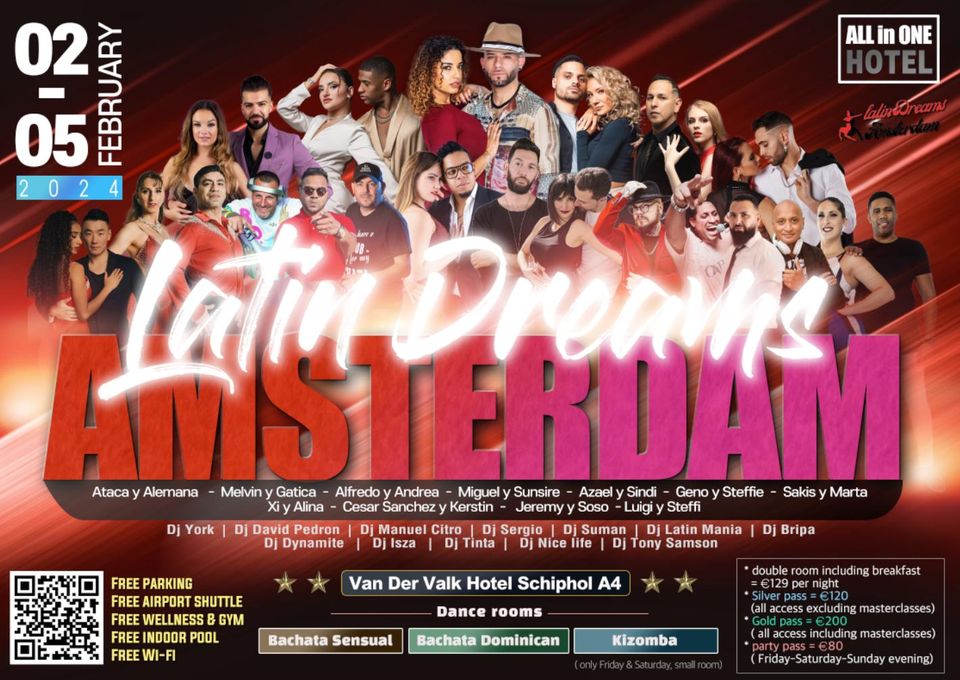 Танцы:
Кизомба, Бачата
Начало:
2024-02-02 20:00
Окончание:
2024-02-05 05:00
Мероприятие:
Фестиваль, Вечеринка, Уроки
Адрес:
Van der Valk Hotel Schiphol A4
Билеты:
https://www.dizizid.com/events-registration/index.html?officeId=231&fbclid=IwAR3C6B4PHdUtCd2JwD1u41FSJbGFKRjBDhQjkxP3jegd7NmGKZXZ_1tlf6o#/time-table-panel-3495
Описание:
★▬▬ ★ VENUE: ALL EVENTS IN 1 HOTEL* ★▬▬ ★
Van Der Valk Hotel Schiphol A4
Rijksweg A 4 Nr 3
2132 MA Hoofddorp – Schiphol
Netherland
★ We are thrilled to present to you the 2nd edition of LATIN DREAMS AMSTERDAM BACHATA, a 3-days showcase of unlimited bachata Sensual & Dominicano and shows, All in ONE hotel.
★ Hotel, parties till 5am, workshops and shows will all be in one hotel.
★ The 2nd edition of Latin Dreams Amsterdam Bachata is being held in the amazing venue:
Hotel van der Valk Schiphol A4
The venue is 12 minutes from Schiphol airport and only 13 minutes from the centre of Amsterdam.
We will offer you:
★ A big dancing room of 1000m2 for Bachata Sensual
★ Additional smaller dancing room of 600m2 Bachata dominicano
★ Superior and luxury rooms reserved for visitors of Latin Dreams Amsterdam
★ A free shuttle from the airport Schiphol to the main hotel
★ 1500 free parking spaces (if you stay in de main hotel or you bought a fullpass of Latin Deams Amsterdam Bachata)
★ Modern wellness centre and a luxurious gym
★ Spacious indoor pool
★ Big and beautiful outdoor space
★ Nice breakfast from 5 till 11 am
★ Free Wi-Fi
★ Elegant restaurant and cosy hotel bar
★A delicious dinner is available for additional charges
PARTIES IN 2 DANCING ROOMS (BACHATA SENSUAL and BACHATA DOMINICANO)
ONE KIZOMBA ROOM
Booking link:
ссылка
Contact the organisation
Email: contact@latindreamsbachata.com
PRICES
SILVER PASS (valid for all workshops, parties and show, no masterclass)
EARLY BIRD = 90€
5 NOV = 130€
5 DEC = 150€
5 JAN = 170€
AT THE DOOR = 200€
GOLD PASS (ALL ACCESS INCLUDING MASTERCLASS & FRONT PLACE FOR SHOW)
EARLY BIRD = 200€
5 NOV = 230€
5 DEC = 250€
5 JAN = 270€
AT THE DOOR = 300€
PARTY PASS (valid for all parties and show, no masterclass)
EARLY BIRD = 75€
5 NOV = 85€
5 DEC = 95€
5 JAN = 105€
AT THE DOOR = 120€
Booking link:
ссылка
★▬▬ ★ BACHATA ARTISTS LINE UP ★▬▬ ★
★ ATACA Y LA ALEMANA
★ MELVIN & GATICA
★ AZAEL & SINDI(Lit)
★ ALFREDO & ANDREA (SP)
★SAKIS & MARTA (Greece/Poland)
★ GENO & STEFFIE (NL, Bachata passion)
★ XI & ALINA (GER)
★ MIGUEL & SUNSIRE (SP)
★ CESAR SANCHEZ & KERSTIN (GER)
★JÉRÉMY & SOSO (FR)
★LUIGI & STEFFI (GER)
★
★
★
★MORE COMING
★▬▬ ★ BACHATA SENSUAL DJ'S LINE UP ★▬▬ ★
★DJ YORK (GER)
★DJ MANUEL CITRO (IT)
★DJ SERGIO (NL)
★DJ SUMAN (NL)
★▬▬ ★ BACHATA DOMINICANO DJ'S LINE UP ★▬▬ ★
★DJ LATIN MANIA (NL)
★DJ BRIPA (NL)
★DJ DYNAMITE (NL)
★DJ ISZA (NL)
★DJ Tinta (NL)
★▬▬ ★ KIZOMBA DJ'S LINE UP ★▬▬ ★
★DJ Nice Life (NL)
★DJ Tony Samson (NL)
Booking Link:
ссылка
★▬▬ ★ SHOW LINE UP ★▬▬ ★
★ ATACA & LA ALEMANA
★ Azael & Sindi (Lit)
★ Alfredo y Andrea (SP)
★ Geno & Steffie; SHAMIR Y RENATE (NL, Bachata passion)
★Sakis & Marta (Greece/Poland)
★ Miguel & Sunsire (SP)
★
★
★
★
★
★
★MORE COMING SOON
Booking link:
ссылка
Contact the organisation
Email: contact@latindreamsbachata.com
Web: www.latindreamsbachata.com
Перейти на главную