Kiz Paixão Congress KPC act 5 ALL IN ONE VENUE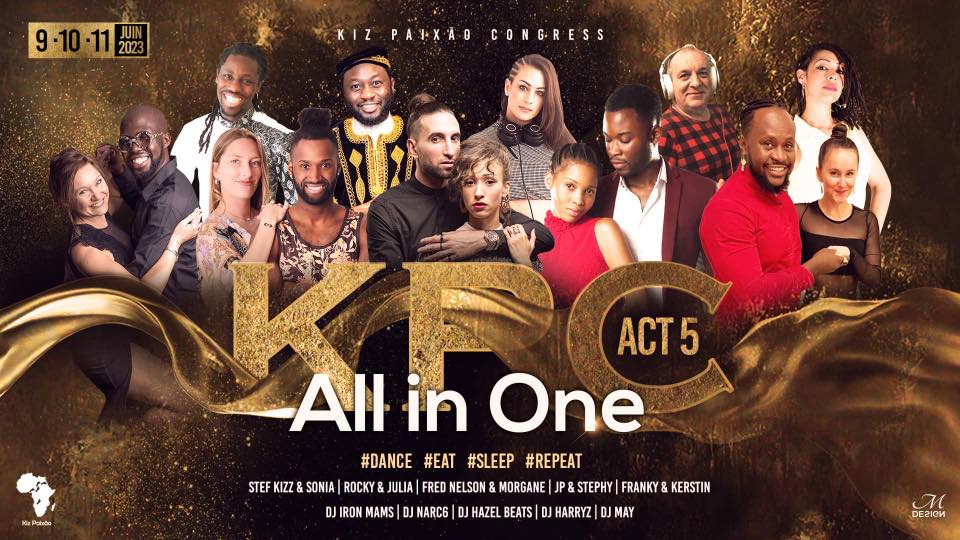 Танцы:
Кизомба
Начало:
2023-06-09 08:00
Окончание:
2023-06-11 08:00
Мероприятие:
Уикенд, Фестиваль
Адрес:
Warning
: mb_strpos(): Empty delimiter in
/home/admin/web/tofest.ru/public_html/wp-content/themes/avatarka/template-parts/content/content-single.php
on line
331
Golden Tulip Mulhouse Basel
Описание:
🇫🇷
ALL IN ONE édition Kiz Paixão garde le cap familial, atmosphère joyeuse et partage.Vous passerez un week-end magique de danse avec des artistes de qualité spécialisés dans leur art respectif.
Nous vous présentons l'acte 5 du KPC.
🇬🇧🇺🇸
ALL IN ONE edition Kiz Paixão keeps the family cape, beautiful atmosphere and sharing.You will spend a magical weekend of dance with artists of qualities specialized in their respective art.
We present you the Act 5 of KPC.
🇩🇪
ALL IN ONE Edition hält Kiz Paixão die Familie in der freudigen Atmosphäre und im Teilen.Ihr verbringt ein magisches Tanzwochenende mit Künstlern, die auf ihre jeweilige Kunst spezialisiert sind.
Wir stellen Ihnen den 5 Act des KPC vor.
▁▂▃Kiz Paixao Congress Act 5▃▂▁
✮✯✰KIZOMBA ARTISTS LINE UP ✮✯✰
✸ Fred Nelson & Morgane 🇫🇷
✸ Jp & Stephy 🇫🇷
✸ Rocky & Julia 🇫🇷
✸ Franky & Kerstin 🇩🇪
✸ Sonia & Stef KiZz 🇮🇩 🇫🇷
✭✮✯✰KIZOMBA DJS LINE UP ✭✮✯✰
✸ DJ Narc6 🇩🇪 🇨🇲
✸ DJ Iron Mams 🇨🇭
✸ DJ Hazel Beats 🇨🇭
✸ DJ May 🇫🇷
✸ DJ Harryz 🇩🇪
✭✮✯✰TAXIS TEAMS LINE UP ✭✮✯✰
✸ Kizmanie Team ( Mulhouse- Lyon )🇫🇷
✸ Lpk Team ( Grand Est ) 🇫🇷🇨🇭
✸ Funomen ( Paris ) 🇫🇷
✸ Free taxi Team ( Alsace ) 🇫🇷
✭✮✯✰GUESTS DANCERS ✭✮✯✰
✸ Kizinvasion Family 🇩🇪
✸ ✸ ✸ Billetterie ✸ ✸ ✸
✸
ссылка
❋✻◢ Photographe ◣ ❉❊
✸ Franck Cuny ( Resident )
✸ Saber Boucherit
❋✻◢Accommodation◣❉❊
✸ALL IN ONE VENUE
( Dance-Eat-Sleep-Repeat!)
✸ GOLDEN TULIP HÔTEL ⭐️⭐️⭐️⭐️
26 Route départementale 201
Rue de cévènnes
68390 Sausheim
Перейти на главную