HAVANA: Cuban Dance & Culture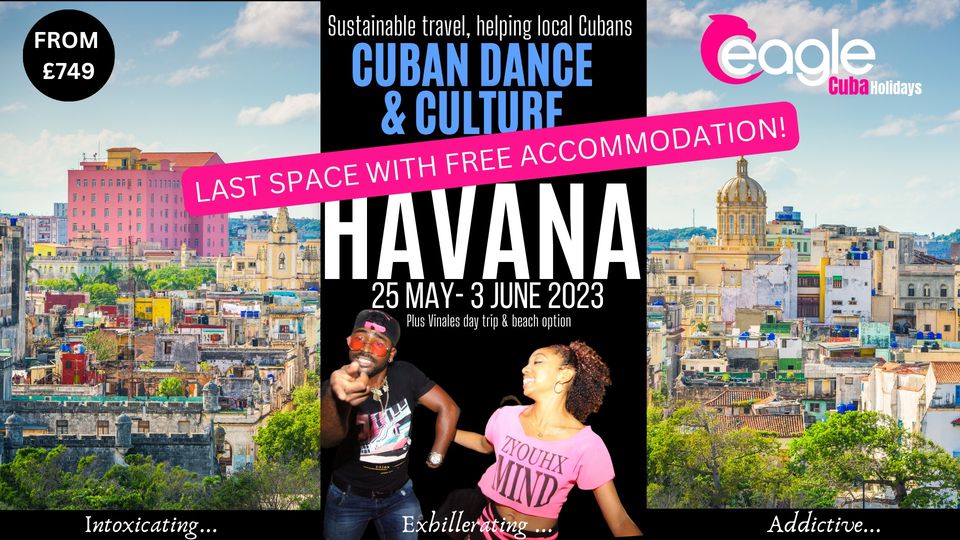 Танцы:
Сальса
Начало:
2023-05-25 16:00
Окончание:
2023-06-03 19:00
Мероприятие:
Вечеринка, Уроки, Концерт\шоу
Адрес:
Описание:
CUBAN SALSA IN…HAVANA
25 May – 3 June 2023
**DUE TO CANCELLATION WE HAVE 1 DOUBLE ROOM AVAILABLE INCLUDED IN THE COST FOR JUST £749.
1 OR 2 PEOPLE CAN TAKE THIS ROOM.**
Authentic experience . Sustainable Travel . Helping Cubans
The holiday that will fulfill your dance potential and your soul!
This trip has been designed to be able to offer a suitable option for every traveler, whatever your budget and requirements and we can tailor-make it to suit you but keeping within a group setting. Numbers are also strictly limited to ensure quality of tuition.
YOUR HOLIDAY AT A GLANCE
Where else in the world you can dance and party non-stop while being immersed in incredible culture and surrounded by the most talented and beautiful people – the answer is… Havana!
A lo Cubano…you've heard the saying and it really couldn't be more true for this holiday…The Cuban way is exactly what you will do... living authentically, in the heart of the country born to dance Salsa. Surrounded by locals, music, dance and culture in the lively, bamboozling and seductive streets of Havana.
Whether you are new to Salsa or an experienced dance teacher or performer this holiday is for you! You will have daily, intensive workshops focusing on YOU and YOUR dance ability. Everyone will have a dance partner at all times as we ensure equal numbers of male and female Cuban teachers.
You will thoroughly enjoy being challenged in all aspects of Cuban dance but it will be so much fun you won't even realise the level of intensity. One thing is for certain, you will return home dancing 'a lo Cubano'!
Your indepth workshops will teach you technicality, musicality and the fundamentals of Salsa such as Rumba and Son. You will also have in-depth body movement and styling classes. No Cuban style will go untaught on this holiday!
But, most importantly, this holiday will see your confidence levels soar as you are swept off your feet both in class and every night by our wonderful, talented team of dancers who will spend the holiday with us.
Once workshops are finished for the day you will have lots of options available to you. We always give you 'off the beaten track experiences' that only Cubans know about and there is usually a spontaneous party or bembe taking place at a moments notice.. another fabulous way to experience authentic Cuba!
We want you to get under the skin of this endearing yet complicated Island, and in turn, Cuba will get under your skin and have you returning again and again – that's our promise!
This is a sustainable holiday because we believe in working directly with local Cubans and small companies wherever possible.
YOUR HOLIDAY AT A GLANCE:
9 NIGHTS OF PURE EXHILARATION!
14 HOURS OF INTENSIVE DANCE TUITION
STAY IN A CASA PARTICULAR OR HOTEL OPTION
EQUAL RATIO OF CUBAN DANCERS TO GUESTS
EXCURSIONS (CLASSIC CAR TOURS, WALKING TOUR OF OLD HAVANA, BEMBÉ, RUMBA PARTY ETC)
BEACH DAY WITH OUR CUBAN DANCERS
NIGHTLY SALSA PARTIES
LIVE CONCERTS FROM CUBA'S BEST KNOWN MUSICIANS
OUR DANCERS WITH US EACH NIGHT
DAY TRIP TO VINALES
GROUP MEALS
TRANSPORT WHERE REQUIRED FOR OUR GROUP
AIRPORT TRANSFER FOR THE RECOMMENDED FLIGHTS TIMES
PRIVATE LESSONS AVAILABLE
DEDICATED ENGLISH / SPANISH SPEAKING TEAM MEMBERS WITH YOU THROUGHOUT
…A COMPLETE, AUTHENTIC CUBAN EXPERIENCE
PRICE
Your holiday base price is just £749
You then need to book your flight. We have suggested AirFrance which can be taken from London/ Birmingham or Manchester. However Tui have good value direct flights available from Manchester (these include 2 additional days at the end, perfect for a bit of beach time!)
Finally you can choose what type of accommodation you prefer. Whatever you choose we will arrange everything to your request.
A Casa particular will be the cheapest and most authentic option starting from as little as £9 per night (usually the charge is per room not per person therefore the price you see will be able to accommodate up to 2 people).
Or you can choose one of our 4 or 5 star hotels with full leisure facilities if you prefer. Please contact us for accurate costs for your preferred option.
If you are unsure about whats included or what extras you may want please speak to us and we are more than happy to discuss all your options.
TO BOOK
We require a booking form.
Booking forms can be filled out and sent via our website using this link:
ссылка
or from www.salsatours.co.uk)
plus a deposit of £150 which can be paid to the following bonded / protected travel account:
Eagle Activity Tours Ltd
SC: 30-98-93
AC: 02613951
REF: Your name +HAV
Further holiday information is available at www.salsatours.co.uk .
Перейти на главную