GoxoKizz Festival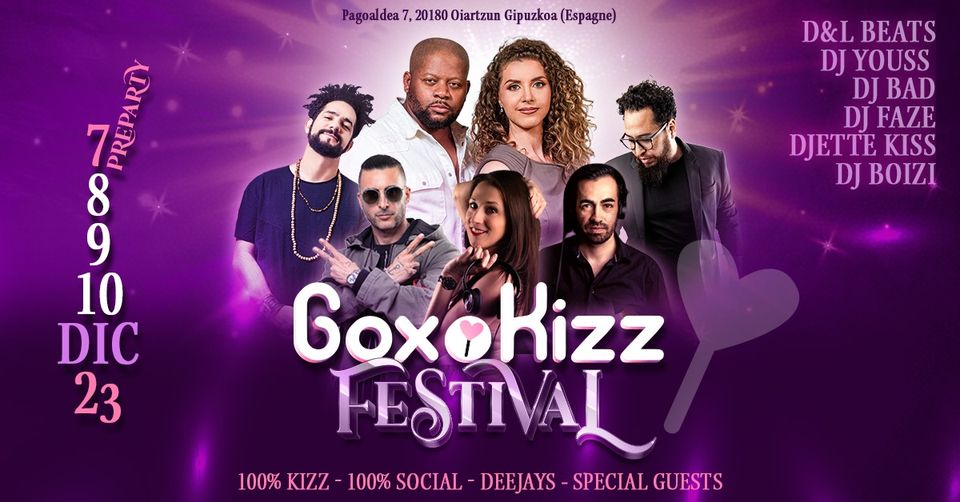 Танцы:
Кизомба
Начало:
2023-12-07 22:00
Окончание:
2023-12-10 20:00
Мероприятие:
Фестиваль
Адрес:
PAGOA, Pagoaldea 7, 20180 Oiartzun
Билеты:
https://my.weezevent.com/pagoa-goxokizz-festival-diciembre-7-8-9-10?_gl=1u00252Av00mb0u00252A_gcl_auu00252AMjM3MzcyMjAwLjE2ODM3MDczNzM.u00252A_gau00252AODkwNDcxNzgwLjE2NDczNzQ1MzI.u00252A_ga_39H9VBFX7Gu00252AMTY4NTQ2NDkzMS4zLjEuMTY4NTQ2NTY5NS4wLjAuMA..
Описание:
🍭💜GoxoKizz🍭💜…
...eso que nos hacer sentir a gusto, como en casa…🫂☺️
¡A disfrutar sin moderación! 🥳🤩
del 7 de diciembre 2023 23:00h
al 10 de diciembre 2023 20:00h
¿Qué es 𝐆𝐨𝐱𝐨𝐊𝐢𝐳𝐳?...un juego de palabras.
𝐆𝐨𝐱𝐨: palabra vasca que significa dulce, tierno, estar a gusto, algo así como sentirse en casa.
𝐆𝐨𝐱𝐨𝐤𝐢, a su vez, significa caramelo 🍭🍭🍭
Y 𝐤𝐢𝐳𝐳 todos lo sabemos, ¿no?
Hace más de un año nos juntamos unas locas del baile, con personalidades y energías diferentes, pero con mucho en común: simpatía, ternura, alegría, diversión y, sobre todo, pasión por la kizomba.
El camino nos ha llevado hasta aquí, hasta el GoxoKizz Festival.
Os ofrecemos nuestro hogar:
- Ubicado al lado del mar y la montaña; una oportunidad para conocer nuestro precioso País Vasco.
- Una sala espectacular con acústica de primera y suelo perfecto para bailar.
- Estaréis como en casa: abrazos,sonrisas, ternura, suavidad, conexión, musicalidad, buena energía, idiomas, comida, charlas, momentos de descanso…
- Y si os portáis bien hasta os regalaremos piruletas.🍭
Un verdadero hogar se construye con emociones… las tuyas, las vuestras.
¿Te vienes y creamos un refugio kizombero?🫂☺️
🇫🇷
🍭💜GoxoKizz🍭💜...
...ce qui nous met bien, chez nous...🫂☺️
À consommer sans modération!🥳🤩
du 7 septembre 2023 à 23h
au 10 décembre 2023 à 20h
Qu'est-ce que 𝐆𝐨𝐱𝐨𝐊𝐢𝐳𝐳?... un jeu de mots.
𝐆𝐨𝐱𝐨 : mot basque qui signifie doux, tendre, être à l'aise, se sentir chez soi.
𝐆𝐨𝐱𝐨𝐤𝐢, à son tour, signifie bonbon 🍭🍭🍭
Et 𝐤𝐢𝐳𝐳 nous le savons tous, non ?
Il y a plus d'un an, des danseuses folles nous sommes réunies, avec des personnalités et des énergies différentes, mais avec beaucoup de points communs : sympathie, tendresse, joie, amusement et, surtout, passion pour la kizomba.
Le chemin nous a emmenées ici, au GoxoKizz Festival.
Nous vous offrons notre foyer :
- Situé à côté de la mer et des montagnes; l'occasion de découvrir notre beau Pays Basque.
- Une salle spectaculaire avec une acoustique top et un sol parfait pour danser.
- Vous serez chez vous : des câlins, des sourires,de la douceur, de la connexion, de la musicalité, bonne énergie, langues, nourriture, discussions, moments de repos.
- Et si vous êtes sages nous vous offrirons même des sucettes🍭
Un vrai foyer est construit avec des émotions... les tiennes, les vôtres.
Tu viens créer un abri kizzeur?🫂☺️
🇬🇧
🍭💜GoxoKizz🍭💜...
...that which makes us feel comfortable, at home...🫂☺️
To enjoy without restraint! 🥳🤩
What is 𝐆𝐨𝐱𝐨𝐊𝐢𝐳𝐳?... it's a pun !
𝐆𝐨𝐱𝐨: Basque word that means sweet, tender, to be at ease, something like feeling at home.
𝐆𝐨𝐱𝐨𝐤𝐢, in turn, means caramel 🍭🍭🍭
And 𝐤𝐢𝐳𝐳 we all know, right?
More than a year ago, some crazy dancers got together, with different personalities and energies, but with a lot in common: friendliness, tenderness, joy, fun and, above all, passion for kizomba.
The road has led us here, to the GoxoKizz Festival.
We offer you our home:
- Located next to the sea and the mountains; a great opportunity to get to know our beautiful Basque Country.
- A spectacular room with first-class acoustics and the perfect floor for dancing
- You will feel at home: hugs, smiles, tenderness, warmth, connection, musicality, good energy, different languages, food, talks, moments of rest...
- And, if you behave well, we will even give you lollipops🍭
A true home is built with emotions... yours, ours, everyone's.
Will you come and help us create a kizombero shelter? 🫂☺️
✨🍭🏨ALOJAMIENTOS/LOGEMENTS🍭🏨✨
https://m.facebook.com/story.php?story_fbid=627195589444764&id=100064629851774
❓❓❓❓Dudas, questions❓❓❓❓
Escríbenos/écris-nous sur Messenger🤓☺️
📸 Laura León Gómez
ссылка
Перейти на главную