FSB: Frankfurt Spring Bachathon 2024 – Germany's Bachata Marathon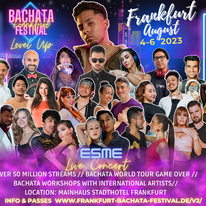 Танцы:
Бачата
Начало:
2024-04-19 19:30
Окончание:
2024-04-22 02:00
Мероприятие:
Уикенд, Фестиваль, Конкурс, Вечеринка, Уроки
Адрес:
Билеты:
https://www.frankfurt-bachata-festival.de/Bachata-Marathon
Описание:
⭐️Welcome to Germany's Bachata Marathon⭐️
Bachata dancing all day, all night ⭐️
First bachata marathon in Germany ⭐️
🎧🏆🎶 Some of the best DJs from Germany and worldwide will play the hottest bachata music. DJ Tony Pecino, DJ Dimen5ions & more are joining.
💃🏻🏆👩🏼‍🏫 International Bachata Artists😯 & the🏆👩🏼‍🏫 Best bachata teachers from Germany will be teaching 18 amazing workshops (all intermediate/advanced level) 😯
As always we have some surprises prepared and will reveal the joker artists & workshops later on 🤭🤫😎
🥇🥈🥉 Bachata Jack & Jill Competition judged by the audience ONLINE (gather your friends)
🔬👩‍🔬🧪Bachata-Lab: A room to get together and share bachata knowledge or symply to practice/create new movements.
🎪🎟️🎬 Show Cast: Come to perform & get discounts and special benefits. More infos coming soon…
══★ Artists★══
DJ Dimensions
DJ Nila
DJ Josh
DJ Milad
....
Many more
══★ Bachata Artists★══
Eduardo & Natalia
Emi & Alara
David & Ilona
Daniel & Anastasia
Roberto & Magdalena
Guillermo & Anastasia
Many More
══★ Show Teams★══
══★ Location ★══
The event is taking place in the most beautiful and biggest dance school in Hesse, the Tanzschule Weiss. The main party will take place at a ⭐️ 500 m2 area!!!⭐️
There will be additional room for classes and socials.
❖❖❖❖❖❖❖❖❖❖❖❖❖❖❖❖❖❖
ADDRESS
Christian-Pleß-Straße 11-13, 63069 Offenbach am Main
❖❖❖❖❖❖❖❖❖❖❖❖❖❖❖❖❖❖
Worskshops Schedule
https://www.frankfurt-bachata-festival.de/event-program
❖❖❖❖❖❖❖❖❖❖❖❖❖❖❖❖❖❖
❖❖❖❖❖❖❖❖❖❖❖❖❖❖❖❖❖❖
❖❖❖❖❖❖❖❖❖❖❖❖❖❖❖❖❖❖
⭐️Bachata Jack N Jill Social Dancing Competition⭐️
1 Place: 200 EUR
2 Place: 2 Full Passes
3 Place: 2 Party Passes
Jack and Jill is a format of competition in social dancing, where the competing couples are the result of random matching of leaders and followers who dance socially in groups of couples, there are 3 partner switching and 3 Rounds.
The Prefinals are on Saturday after Workshops and the Finals are taking place during the Party.
Registration Link:
https://forms.gle/N8tGr64N4rCUBGGX9
**All Fullpass, Saturdaypass & Marathonpass & Partypass Participants can participate FOR FREE. Alternatively you can participate for a 20 EUR fee paid during the Friday Party.
❖❖❖❖❖❖❖❖❖❖❖❖❖❖❖❖❖❖
GROUP DISCOUNT & PROMOCODE- PARTNERSHIP
-> Contact Edu or Natalia, or send us an Email
PROMOTIONS:
Follow us on INSTAGRAM & Share Event in a STORY
@frankfurt_bachata_festival
and get 5% Discount on your Fullpass & Marathonpass
Promocode: INSTAGRAM
══★ REGISTRATION★══
❖ Registration via Link:
https://www.frankfurt-bachata-festival.de/registration
Questions --> ⏰🥳
❖ 01639641730
❖ 015734446279
❖ info@alma-dance.de
❖ Website:
ссылка
We are looking forward!! 💖
Wir freuen uns auf DICH! 💖
Alma Dance Team +
Edu&Natalia
Tickets are not refundable after payment and name changes are only possible with advance notice.
Перейти на главную