Freiburg Dance Kings Festival 27th-29th OCTOBER.2023. 4th EDITION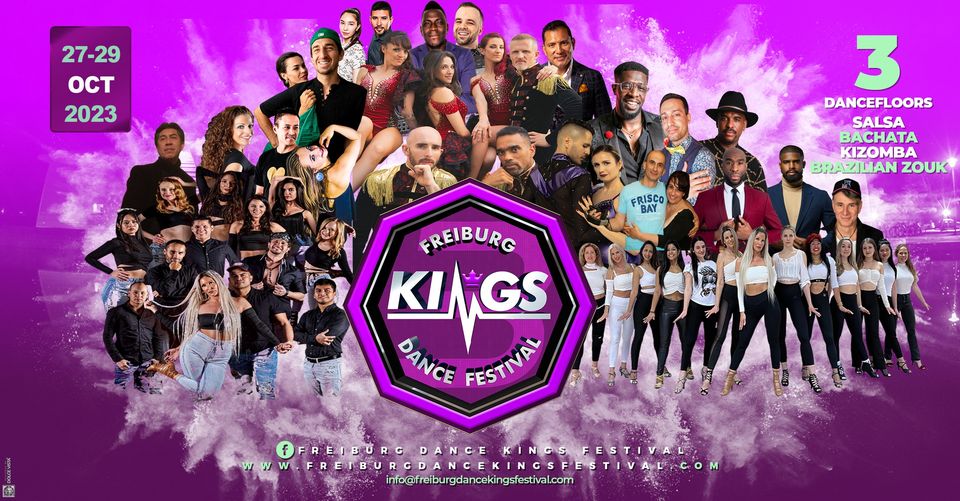 Танцы:
Сальса, Зук, Кизомба, Бачата, Афрохаус
Начало:
2023-10-27 21:00
Окончание:
2023-10-29 07:00
Мероприятие:
Фестиваль, Вечеринка
Адрес:
Kultur & Bürgerhaus Denzlingen mit Restaurant Delcanto
Описание:
SALSA , BACHATA , KIZOMBA,ZOUK BRAZILIAN👉
👉TICKET👉
www.freiburgdancekingsfestival.com
👉BILLET 👉
https://my.weezevent.com/freiburg-dance-kings-festival-27th-29th-October2023-4th-edition
Save the date! 27th-29th OCTOBER 2023. 4 Edition.
More informations coming soon.
👉The first and the Second editon was a success ! Don't miss it ! Be a part of it, make your own story !
👉Please help us to share,participate the event thanks for your help
Dear Friends,
👉 Welcome, willkommen,Bienvenu,
👉 Freiburg Dance Kings Festival 3nd Edition, 27.- 29.OCTOBER 2023. in GERMANY 🇩🇪
👉 ▀ ▄▀ ▄▀ 📀 📀 MUSIC 📀 📀 ▀ ▄▀ ▄▀
3 DANCES FLOORS
👉 1 Floor
( URBANKIZ,KIZOMBA, SEMBA, GUETTO ZOUK, AFRO HOUSE )
👉 2 Floor
BACHATA, BACHATA SENSUAL, BACHATA DOMINICAINE,
👉 3 Floor
SALSA PORTORICAIN,SALSA CUBAIN,MAMBO,CHA-CHA-CHA
▀ ▄▀ ▄▀ 📀 📀 MUSIC 📀 📀 ▀ ▄▀ ▄▀
👉 PROGRAM 👉
███▓▒░░ ███▓▒░░ ███▓▒░░
👉 ▀ ▄▀ ▄▀ 📀 📀 MUSIC 📀 📀 ▀ ▄▀ ▄▀
👉 SALSA , BACHATA , KIZOMBA,ZOUK BRAZILIAN👉
▀ ▄▀ ▄▀ ▄▀ ▄ THE DJS LINE- UP ▀ ▄▀ ▄▀ ▄▀ ▄
▓▒░░ ARTISTS SALSA ▒░░▓
ALEGRIA DANCE COMPANY ( FR )
PABLO & LUISA ( DE )
KIA & TEO ( DE )
DJ CHINO ( DE )
DJ PATRICIA ( SUI )
DJ LUCAS ( SUI )
▓▒░░ ARTISTS BACHATA ▒░░▓
SOL HISSIROU ( FR )
ANASTASIA & GUILL ( DE )
DAVID & MAYA ( ES & DE )
LAS SIRENAS SHOWGROUP ( DE )
GRUPO ESENCIA FRANKFUNT ( DE )
WILLIAM ( PE )
CÉDRIC ( FR )
DJ PAPITO ( PE )
DJ CÉDRIX ( FR )
▓▒░░ ARTISTS KIZOMBA▒░░▓
DIMDIM & OPHÉLIE ( FR )
KINGSLEY ( FR )
DJ SHARK ( ES )
DJ DAMERI ( HL )
DJ JJ ( DE )
DJ ANKIT ( DE )
▓▒ ARTISTS BRAZILIAN ZOUK ░▓
DAVID & ANAMÉ
FOTOGRAPHE :
PETER ZUMS
▓▒░░ KAMERAMANN ▒░░▓
RACHID WALLAS ( FR )
AYTUG TAYSI ( DE )
▓▒░░ TICKET RESERVATION ▒░░▓
https://freiburgdancekingsfestival.com/de/evenements-2/
PRICES
COMBO PASS: 2 Festivals for 1 Price = 120euro
Freiburg
Strasbourg
FULLPASS = 90euro
PARTYPASS = 80euro
▓▒ HOTEL PRINCIPAL ░▓
Hampton by Hilton Freiburg
24/7, Hampton by Hilton Freiburg
Direkte Google-Karte
https://www.google.com/maps/place/Zita-Kaiser-Stra%C3%9Fe+32,+79106+Freiburg+im+Breisgau,+Allemagne/@48.0148179,7.8486031,17z/data=!3m1!4b1!4m5!3m4!1s0x47911c7f7ad45455:0xd5471486e09faf55!8m2!3d48.0148179!4d7.8507918
E-Mail : reservation@hamptonfreiburg.de
PHONE:+49 761 21 689 741
███▓▒░░ ███▓▒░░ ███▓▒░░
Перейти на главную