Festival Cuba In Tunisia 2023 Official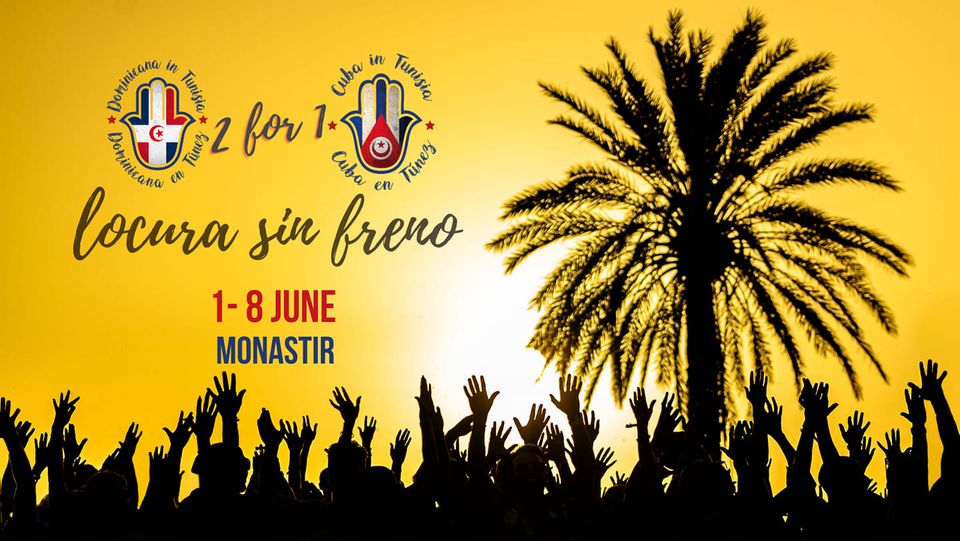 Танцы:
Бачата, Сальса
Начало:
2023-06-01 12:00
Окончание:
2023-06-08 14:00
Мероприятие:
Концерт\шоу, Фестиваль, Уроки, Вечеринка
Адрес:
Билеты:
https://my.weezevent.com/festival-cuba-in-tunisia-2023-1
Описание:
Join us for the 6th edition of Cuba In Tunisia and let's make memories for life! We are preparing something really special, so make sure you will not miss the biggest event of 2023!
What to expect?
🔸 Beautiful All-Inclusive hotel**** for 7 nights 😍
🔸 LIVE concerts! 💣
🔸 Top DJs with their finest music selection
🔸 More than 50 international artists
🔸 More Than 100h of quality workshops
🔸 Crazy parties that will blow your mind 🤩 (including foam party, colour powder party, beach party and evenings!)
🔸 Afterparties with no-end or just a break for breakfast 🤪
🔸 Classes with the best live percussion ever!
🔸 Legendary boat trip 🌊
🔸 Rumba abierta that will tickle your ❤️
🔸 Top animations
And much, much more!
Cuba in Tunisia is the biggest and most amusing Cuban Festival in the world!
One week of 24/7 pure madness dedicated 100% to Cuban culture at the shores of beautiful Tunisian sea. The unforgettable experience of passion, friendship and connection, all of this in amazing scenery and All-inclusive hotel.
Join us and be a part of #LocuraSinFreno family!
We are authentic.
Passionate.
And sooo much fun! 😉
🛒Tickets available: Coming Soon
ℹ️Check our website: www.cuba-in-tunisia.com
Перейти на главную