Faith Connect | Serbian Sensual Festival | 2023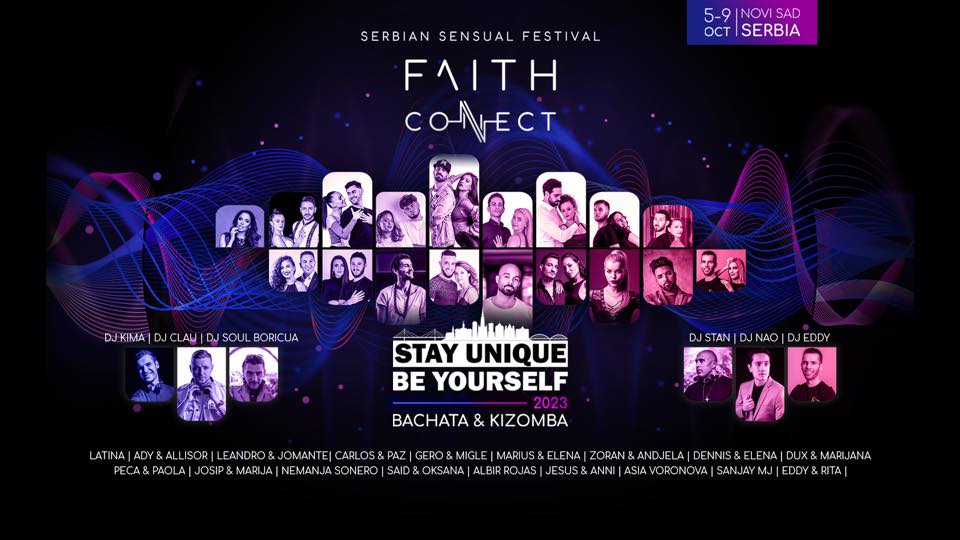 Танцы:
Кизомба, Бачата
Начало:
2023-10-05 22:00
Окончание:
2023-10-09 05:00
Мероприятие:
Фестиваль, Вечеринка, Уроки
Адрес:
Описание:
◼️◾Faith Connect is a Serbian Sensual Festival!◾◼️
🗓️Festival date:
October 5-9, 2023
⏰The first party awaits you already on Thursday, October 5, from 10 p.m.
⏰And the workshops start a little earlier this year,
on Friday, October 6 from
12 noon.
◼️What to expect?
◾28+ great dance instructors from around the world
◾48+ hours of workshops
◾8+ DJs
◾2 dance floors
◾taxi teams and special guests
◾and a few more surprises
🟥BACHATA
◾GERO & MIGLE 🇱🇹🇪🇸
◾CARLOS & PAZ 🇪🇸
◾MARIUS & ELENA 🇷🇴
◾LEANDRO & JOMANTE 🇬🇧🇱🇹
◾ADY & ALLISOR 🇷🇴
◾ELENA & DENNIS 🇩🇪
◾DUX & MARIJANA 🇷🇸
◾LATINA 🇷🇸
◾ZORAN & ANDJELA 🇷🇸
🟥KIZOMBA
◾ALBIR ROJAS 🇵🇦
◾SAID & OKSANA 🇫🇷🇺🇦
◾ASIA VORONOVA 🇺🇦
◾EDDY & RITA 🇭🇺
◾NEMANJA SONERO 🇷🇸
◾SANJAY MJ 🇮🇳
◾JESUS & ANNI 🇪🇸
◾JOSIP & MARIJA 🇭🇷
◾PECA & PAOLA 🇷🇸
◾ZORAN & ANDJELA 🇷🇸
🟥BACHATA DJs
◽DJ CLAU 🇷🇴
◽DJ KIMA 🇳🇱🇷🇸
◽DJ SOUL BORICUA 🇮🇹
…more to be announced
🟥KIZOMBA DJs
◽DJ NAO 🇧🇪
◽DJ EDDY 🇭🇺
◽DJ STAN LEWIS 🇷🇸
…more to be announced
📌The location where all workshops and parties will be held is the
Novosdski Sajam,
Hajduk Veljkova 11.
💰TICKETS 🔽🔽🔽🔽:
https://www.dizizid.com/events-registration/index.html?officeId=246
◼️Who are we and what is our idea?
◾Our idea is in the name itself, connecting, connecting with a partner, with old and new friends, with yourself and all this through dance, because staying unique means being yourself.
◾For the third year in a row, we are trying to improve the quality of workshops, parties, as well as the quality of the organization itself. If you have been with us, you already know that the emphasis is always on connection, musicality and technique, therefore we have formed such a team of instructors who will fully convey social dance to you, all its charms and a team who will share their many years of dance experience with you.
Be a part of our story this year.
🏷️Stay unique,
Be yourself!
◾Our Facebook Page:
https://www.facebook.com/profile.php?id=100086716031987&mibextid=ZbWKwL
◾Our Facebook Group:
https://www.facebook.com/groups/445546730378943/?ref=share
◾Our Instagram Page:
https://instagram.com/faithconnect_dancefestival?igshid=Yzg5MTU1MDY=
◾Our website:
https://faithconnect.dance
Перейти на главную