ECLIPSE Summer Festival – Urban Kizz & Tarraxo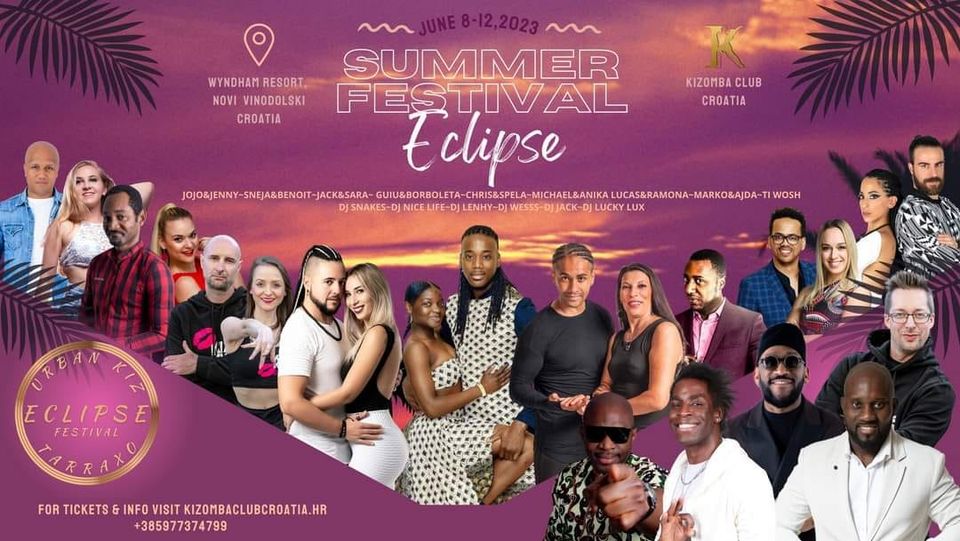 Танцы:
Кизомба
Начало:
2023-06-08 16:00
Окончание:
2023-06-12 10:00
Мероприятие:
Фестиваль, Вечеринка, Уроки
Адрес:
Warning
: mb_strpos(): Empty delimiter in
/home/admin/web/tofest.ru/public_html/wp-content/themes/avatarka/template-parts/content/content-single.php
on line
331
Spa & Resort Novi Vinodolski
Описание:
💫Welcome to our first Tarraxo/Urban Kizz festival in the beautiful coastline of Croatia with top urban kiz and tarraxo international Artist's and Dj's in 5 star All in one venue and get ready for your dance summer vacation!💃🕺
🎶DJ's LINE UP
🎧DJ Snakes
🎧DJ Nice Life
🎧DJ Lenhy
🎧DJ Wesss
🎧DJ Jack
🎧DJ Lucky Lux
🎧DJ Brane
🎧DJ Berry
🎧DJ Azmael
🔥ARTIST'S LINE UP
🕺Jojo &💃Jenny (Let's Play Kizomba)
💃Sneja &🕺Benoit (Urban Kiz)
🕺Jack &💃Sara (Tarraxo Softness)
🕺Guiu &💃Borboleta (Tarraxo)
🕺Chris &💃Spela (Urban Kiz)
🕺Michael & 💃Anika (Tarraxo)
🕺Lucas &💃Ramona (Urban Kiz)
🕺Marko &💃Ajda (Urban Kiz)
🕺Ti Wosh (Urban Kiz Douceur)
🔥TAXI DANCERS:
➡️LPK TEAM
➡️KIZZ RYDERS
➡️ALFA PACK TEAM
➡️UNIT'KIZ
➡️KIZZ KISS TEAM
The total number of taxi dancers will proportionately depend on the total number of the festival participants.
OFFICIAL PHOTOGRAPHER:
📸Bianka Scarlat
📸Chery Styl'
OFFICIAL VIDEOGRAPHER:
🎥Zatie's Art
Clothes
👕 Let's Play Kizomba
👕 Eclipse by Kizomba Club Croatia
👕Clothes customization by Zatie's Art
🎟PASS INFO:
➡️ONLY FULL PASS IS AVAILABLE!
🔹️FROM 28.09.2022 UNTIL 31.10.2022 – 70€
🔹️FROM 01.11.2022 UNTIL 31.12.2022 – 80€
🔹️FROM 01.01.2023 UNTIL 28.02.2023 – 90€
🔹️FROM 01.03.2023 UNTIL 30.04.2023 – 100€
🔹️FROM 01.05.2023 UNTIL 07.06.2023 – 110€
🔹️FROM 08.06.2023 UNTIL 11.06.2023 – 130€ (AT THE DOOR)
PASSES AVAILABLE AT:
https://www.dizizid.com/events-registration/index.html?officeId=239
💫WHAT TO EXPECT IN A DAILY ROUTINE💫:
➡️Workshops (one at the time)
➡️Indoor socials or Outdoor Pool social's
➡️Sauna socials …just kidding 😉
➡️Beach social's (shaded with shade sails and non shaded area) - Snacks and cold fruits for refreshments will be available.
➡️Surprise event on Friday, Saturday and Sunday evenings!
➡️Party time until the sun comes out! 😊
❗ ALL IN ONE VENUE ❗
🌊 WYNDHAM GRAND NOVI VINODOLSKI RESORT 🌊
📍 Hrastić 15, 51250, Novi Vinodolski
ссылка
🏢Hotel booking reservations:
https://secure.phobs.net/book.php?page=cross_selling&companyid=46&checkin=2023-06-08&checkout=2023-06-10&partnerid=14704&crcid=135ca831e5de02bc74f263eb45553ad0
ALL IN ONE SEASIDE 5 STAR SPA RESORT VENUE! -50 meters away from the beach front!
Pay only 25% now for reservation and rest 8 days before arrival!🏖
More details:
The workshop's / social's / party's room is equipped with the superior humidity control and air conditioning system.
Hotel room's and Villa's apartment's accommodating from 1-6 beds.
OUTSIDE RESORT ACOMMODATION:
In case you would like to rent an apartment in nearby city of Novi Vinodolski (3,3 km away) the shuttle's will be available throughout the entire festival time.
Перейти на главную