DANCE & DISCOVER SENEGAL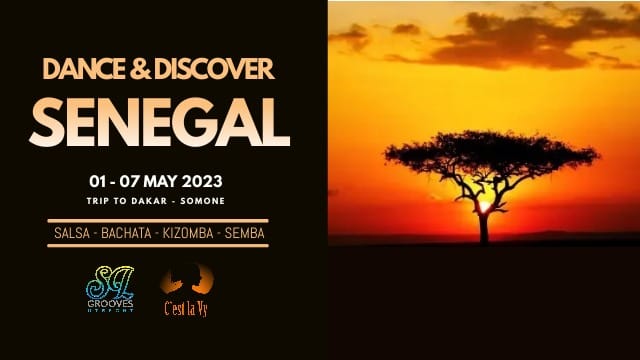 Танцы:
Сальса, Кизомба, Бачата
Начало:
2023-05-01 02:00
Окончание:
2023-05-07 05:00
Мероприятие:
Фестиваль, Уроки
Адрес:
Warning
: mb_strpos(): Empty delimiter in
/home/admin/web/tofest.ru/public_html/wp-content/themes/avatarka/template-parts/content/content-single.php
on line
331
Описание:
ALERT: All dance and sun lovers
Save the date to dance and discover a beautiful part of Africa, the country of the TERANGA; SENEGAL
☆ 1 - 7 May, 2023 ☆
☆ ☆Trip to Senegal, Dakar - Somone ☆ ☆
In collaboration with SBK on the Road, a week filled with salsa, bachata, kizomba, good food, live music and some culture.
This holiday and festival will partially take place in Dakar and partially in Somone...'the rivièra of Senegal'
Sun, sea, dancing, excursions and also the Senegalese culture are the ingredients that will provide an ultimate holiday & festival.
Winter is coming, but let's prepare for the sun and go Dance & Discover Senegal
▪▪▪▪LINE UP DJ'S▪▪▪▪
☆ DJ Onfire (NL)
☆ DJ Zen (FR)
☆ DJ Bud
☆ DJ As De Pikk
☆ DJ P
☆ DJ Abess
More to come …….
▪▪▪▪LINE UP TEACHERS▪▪▪▪
☆ Leon Rose
☆ Franky
☆ Manu
☆ Ana Paula (Arribadance)
☆ Patrick & Safaa
☆ Dawou Tarraxo
☆ Hasou
More to come ...
▪▪▪▪EXCURSIONS▪▪▪▪
☆ Ile de Gorée
☆ Ile de Ngor
☆ Monument de la Renaissance
☆ Lagune de Somone
▪▪Official photographer ▪▪
☆FARANTINI PHOTOGRAPHY (NL)
→ OFFERS
Package 1 includes:
• Festival SBK on the Road - All kizomba parties and workshops
• Hotel Dakar (incl breakfast)
• Hotel Somone (all meals included)
• Excursions
• Transport (airport Dakar, excursions, parties)
Package 2 NO LONGER AVAILABLE
▪▪▪▪▪▪ ▪▪▪ ▪▪▪ ▪▪▪ ▪▪▪ Prices ▪▪▪ ▪▪▪ ▪▪▪ ▪▪▪ ▪▪▪ ▪▪▪
Package 1 €999,-
Payment in instalments possible
Last/full payment needs to be received no later than 01-04-2023
▪▪ BANK DETAILS ▪▪
To be paid to:
SUNSET AFRO LATIN ENTERTAINMENT
IBAN NUMMER: NL08ABNA0401844935
▪▪▪ Contact/info ▪▪▪
Lavyevents@gmail.com
Sunsetlatingrooves@gmail.com
Перейти на главную