Dança Bonita SBK Festival & Beach Party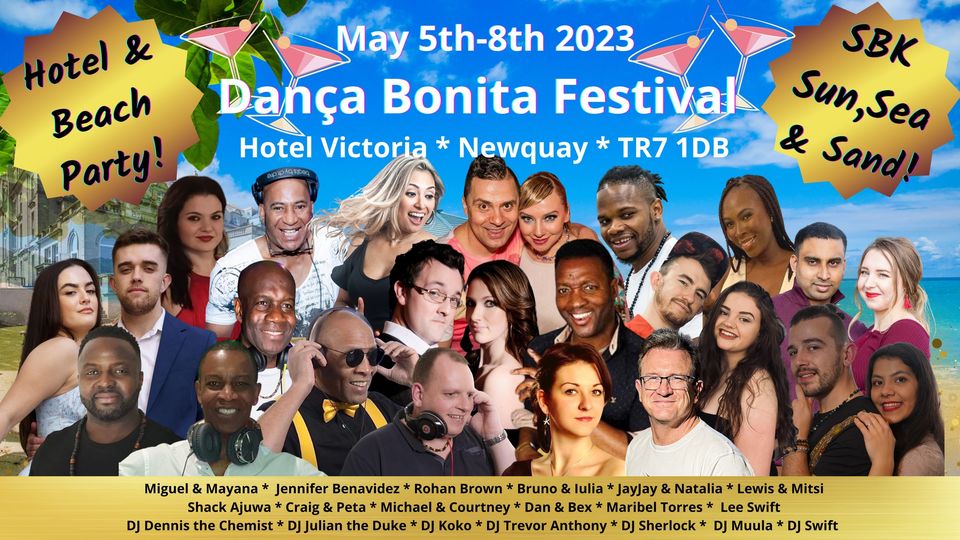 Танцы:
Сальса, Кизомба, Бачата
Начало:
2023-05-05 14:00
Окончание:
2023-05-08 03:00
Мероприятие:
Фестиваль, Вечеринка
Адрес:
Legacy Hotel Victoria East St
Билеты:
https://my.weezevent.com/danca-bonita-sbk-festival-beach-party
Описание:
✅ 3 days of workshops
✅ 3 party nights
✅ 2 party rooms
✅ 1 beach party
✅ Top teachers & DJs
🧡 Welcome to Dança Bonita -
Cornwalls' new SBK Festival
🔥 Full weekend pass £120!!
🔥 Party and day passes available now!
🔥 Join us at the beautiful Hotel Victoria, Newquay, set on stunning grounds on a cliff overlooking Great Western Beach 🏝
🔥 We're bringing you the best in salsa, bachata, kizomba, and semba 💃🕺
🔥 Sunday* we will party on the fabulous Great Western Beach**
🔥 Surf Cafe and Beach Bar to keep us refreshed while dancing to the best tunes from our international DJs 🌞😎🎧🎶🎵
🔥 If you wish to stay over we have negotiated a cracking deal, with bookings held at 2022 prices.
🔥 Room prices include full breakfast, plus the option to upgrade to sea view, superior, and even executive suites!
🔥 Hotel bookings are direct with the hotel. Please call the reservations desk on 01637 872255 and quote 'Dança Bonita'
Rooms start from £100 per night with full English/Continental breakfast.
Parking is £5 per day.
🔥 *Beach party included in the full pass. Ticket for Beach only available for just £15.
🔥 **In the event of rain, our Sunday Social will be in the impressive ballroom with gorgeous sea views.
💥💥💥 Our Artists 💥💥💥
💃🕺 Teachers
⭐ Miguel & Mayana
⭐ Rohan Brown
⭐ Jennifer Benavidez
⭐ Lewis & Mitsi
⭐ Dan & Bex
⭐ Lee Swift
⭐ Bruno & Iulia
⭐ JayJay & Natalia
⭐ Shack Ajuwa
⭐ Maribel Torres
⭐ Craig & Peta
⭐ Michael UrbanKiz & Courtney
🎧 DJs
⭐ DJ Dennis the Chemist
⭐ DJ Julian the Duke
⭐ DJ Koko
⭐ DJ Trevor Anthony
⭐ DJ Sherlock
⭐ DJ Muula
⭐ DJ Swift
💆‍♀️ Holistic Massage & Oils4Life
👡 Shimmy Shoes
📷 Exemedia
📷 Chemistry Media Entertainment
We will have photographers present throughout the event. If you do not wish your images to be published on social media or in print please let us know on arrival or before.
🔥 Book now -
https://my.weezevent.com/danca-bonita-sbk-festival-beach-party
Avoid booking fees, pay by bank transfer:
H Newton
27356605
23-05-80
(Please put Dança Bonita as a reference)
Please note - purchased passes are non-refundable but can be transferred at no extra cost. Please update me with the new name and email address if you are unable to attend, and sell your pass on.
Перейти на главную