Dança Bonita SBK Festival & Beach Party 2nd Edition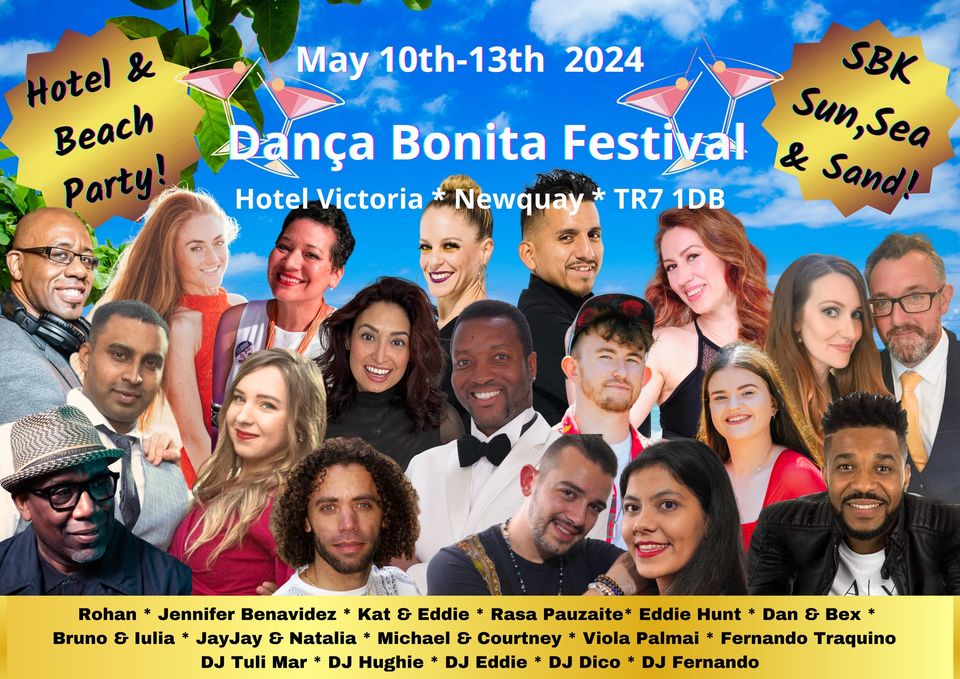 Танцы:
Сальса
Начало:
2024-05-10 14:00
Окончание:
2024-05-13 11:00
Мероприятие:
Фестиваль, Вечеринка
Адрес:
Билеты:
https://my.weezevent.com/danca-bonita-sbk-festival-beach-party-2nd-edition?_gl=1u00252Ayyg3bmu00252A_gau00252ANzk0OTY1NDMwLjE2NDg4NTQ1Mjk.u00252A_ga_39H9VBFX7Gu00252AMTY4NDI1NTIxMi43Ni4wLjE2ODQyNTUyMTIuMC4wLjA.
Описание:
Dança Bonita is back in 2024 for its 2nd edition 💥
If you were here for the first edition you know you need to book now 🔥
If you missed it then you know you don't want to miss it again ‼
Our famous Beach Party is back - this is one party you need to be at!
Our fabulous line-up is still growing but here are our confirmed artists. Click going or interested for updates
💃🕺 Instructors
✅ Rohan Brown
✅ Jennifer Benavidez
✅ Kat & Eddie
✅ Rasa Pauzaite
✅ Dan & Bex
✅ Eddie Hunt
✅ Bruno & Iulia
✅ JayJay & Natalia
✅ Michael & Courtney
✅ Fernando Traquino
✅ Viola Palmai
🎧 DJs
✅ DJ Tuli
✅ DJ Hughie
✅ DJ Eddie UK Salsa
✅ DJ Dico
✅ DJ Fernando
Tickets are available now!!
Your full pass is just £95 💥
Next price increase 1st December £105
✅ 2 days of workshops
✅ 3 party nights
✅ 2 party rooms
✅ 1 awesome Beach Party
✅ Top Teachers & DJs
🔥 Our venue is the stunning 3-star Hotel Victoria, overlooking the fabulous beach and Atlantic coastline.
🔥 Our awesome Beach Party* is back! Great Western Beach is the destination, this was an amazing party not to be missed**
🔥 The Surf Café and Beach bar will be open to keep us all refreshed.
🔥 Discounted surf lessons for all festival guests!
🔥 The Ocean Ballroom has one of the best floors we've ever danced on, and the views are spectacular 🏖
🔥 The Club is a fabulous room, perfect for dancing, with excellent acoustics 🎶🎵🎧
🔥 Once again we have secured a great deal on rooms, with prices held at the 2022 rate! Prices are per room, per night, and include an all-you-can-eat English/Continental breakfast buffet. Parking is £5 extra per day, capped at £15 for those who stay longer.
Single room £100
Twin/Double £115
Sea View £145
Superior £200
Family rooms – extra £30 pp/pn for extra adults
🔥 Book extra nights (arrive early or leave later) for just £75 per night standard/£105 per night sea view!
🔥 Hotel bookings are direct with the hotel. Please call the reservations desk on 01637 872255 and quote 'Dança Bonita'
We will have photographers present throughout the event. If you do not wish your images to be published on social media or in print please let us know on arrival or before.
Please note - purchased passes are non-refundable but can be transferred at no extra cost. Please update me with the new name and email address if you are unable to attend, and sell your pass on.
*Beach Party is included in the full pass
**If we have rain on Sunday our beach party moves to the Ocean Ballroom
Book now -
https://my.weezevent.com/danca-bonita-sbk-festival-beach-party-2nd-edition?_gl=1*yyg3bm*_ga*Nzk0OTY1NDMwLjE2NDg4NTQ1Mjk.*_ga_39H9VBFX7G*MTY4NDI1NTIxMi43Ni4wLjE2ODQyNTUyMTIuMC4wLjA.
Avoid booking fees, pay by bank transfer:
H Newton
27356605
23-05-80
(Please put Dança Bonita as a reference and message me with full details)
Перейти на главную