Cuban Latin Summer Camp in Denmark July 30th – August 5th 2023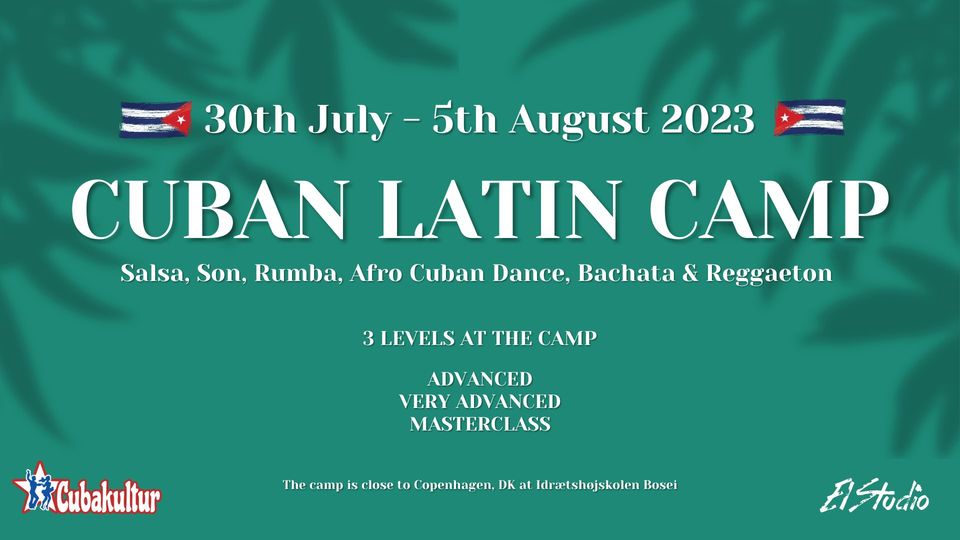 Танцы:
Бачата, Сальса
Начало:
2023-07-30 23:00
Окончание:
2023-08-05 19:00
Мероприятие:
Фестиваль
Адрес:
Описание:
Cuban Latin Summer Camp 2023 💃🕺
This year we have two Camps, one in week 30 and this one in week 31💥
From July 30th - August 5th 2023
Destination: Idrætshøjskolen Bosei, Præstø, South Zealand, Denmark
Early Bird! Register for the Salsa, Bachata & Latin Summer Camp 2023 before 1st of April and save up to 1000 DKK 🤩
We welcome you to a fantastic camp with plenty of Latin dance like Bachata, Salsa and Reggaetón 🔥
At this camp there are 3 different levels in Salsa: Advanced, Very Advanced and Masterclass. For Bachata you do not need to be on an Advanced, Very Advanced or Masterclass level to be able to participate. We also have open level for Bachata. If you have another level then you can join our Salsa Camp in week 31, where we have many more levels.
If you are into Latin dance, this is the place to be. Come and get a lot of inspiration during your summer holiday. Get an experience of a lifetime, meet new people and dance a lot of amazing dances.
The camp takes place at Idrætshøjskolen Bosei near Præstø. We have held Summer Camps since 2004, and have classes for several levels. Anyone can participate, both singles and couples.
There are 5 hours of classes daily with breaks, spread over two sessions a day. The classes take place in different rooms.
In addition to a lot of wonderful classes, there are lectures and parties in the evening.
If you are unsure about your level, you can see our instructions under dance descriptions and levels
You do not need a sign-up partner to register, but if you do have one, then you can save money.
Do you need a sign up partner in order to get a discount and you do not have one, then we can put you on a waiting list. As soon as we get one, we will contact you, so you can register with the discount. It is valid for both sexes. Let us know at info@elstudio.dk
Read more: elstudio.dk/en/salsa-bachata-and-latin-summer-camp-2023
Перейти на главную