Criola Birmingham Mini Fest Kizomba | Urban Kiz | Semba | Tarraxo Workshop |Classes | Parties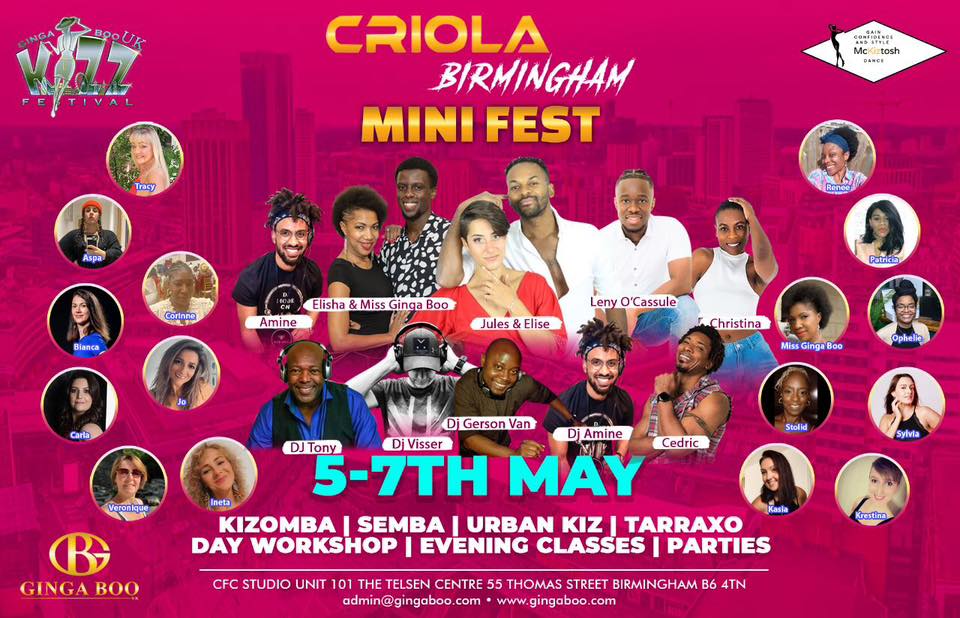 Танцы:
Зук, Кизомба, Афрохаус
Начало:
2023-05-05 20:30
Окончание:
2023-05-07 03:00
Мероприятие:
Фестиваль, Вечеринка, Уроки
Адрес:
55 Thompson street, Telsen Centre
Описание:
Ginga Boo UK (Sonny Varela) & McKiztosh Dance presents :
CRIOLA Birmingham - Mini Festival 5/6/7th May
Kizomba | Semba | Urban Kiz | Tarraxo workshop & Party
Day workshop | Evening classes | Social practise | Parties
🔺Starts Friday 5th May 8.30pm to Sunday 7th May 3am
🔹Extra subject to weather conditions : Sunday afternoon if the weather permit we will go chill out & dance in the Park
A two days event Friday & Saturday where you will experience amazing artists coming together with great knowledge, and amazing atmosphere. You will learn, practise, have fun, chill and dance till you drop 🙂
We would like to introduce you to our team teachers & Djs, they were selected for their quality teaching, attention to details and valuable knowledge.
🔺Our team teachers :
Jules & Elise Tarraxo Pop (France)
Elisha & Miss Ginga Boo (UK)
Leny O'Cassule (UK)
Christina (UK)
Amine (UK)
Cedric (UK)
🔺Our team Djs :
Dj Visser (London/UK)
Dj 5Starkid (UK)
Dj Tony (UK)
Dj Gerson Van (UK)
Music policy : Kizomba, Urban Kiz, Zouk, Konpa, Tarraxinha, Semba, Ghetto Zouk, Tarraxo, Cabo Love, Douceur, Afro etc...
🔴🔴PERFORMANCES 🔴🔴
★Christina McKiztosh
★Miss Ginga Boo present her Ginga Boo UK Ladies Team performance (16 Ladies)
We have an amazing show prepared for you all, the ladies have been working really really hard to present this performance.
Come and support us but most of all to watch a first of it's kind in UK a beautiful performance/show with a mix of different dance style all in one Urban Kiz, Afros, Semba, Kizomba and more... Be ready!
#Dance is Dance and Music is Music
★ Miss Ginga Boo (London)
★ Carla (London)
★ Krestina (Nottingham)
★ Patricia(Nottingham)
★ Renee (London)
★ Corinne (London)
★ Tracy (Liverpool)
★ Kasia (Kent)
★ Stolid (Kent)
★ Jo (Cambridge)
★ Aspa ( Milton Keynes)
★ Bianca (London)
★ Silvia (London)
★ Ophelie (Nottingham)
★ Veronique (Oxford)
★ Ineta ( Birmingham)
⛔Online sales available NOW then
PAY MORE AT THE DOOR
🔹Full pass & Saturday day passes available now
🔹Friday & Saturday Party passes will be released later…
⛔Click the for full prices details :
https://gingaboo.com/events/criola-birmingham/
⛔Deadline :
Online sales will closes Friday 5th May 7.30pm then PAY MORE AT THE DOOR!

You can bring your own soft drinks, water, alcohol | NO bar in the premises

🔺🔺LAST ENTRY 1.30am 🔺🔺

🔺ADDRESS :
CFC Studio Unit 101 The Telsen Centre
55 Thomas Street Birmingham B6 4TN
Free street parking on Thomas Street and Free car park on Pool Street
CRIOLA is a monthly Kizomba party which was organised by Ginga Boo UK in London originally. It is all about Bringing different flavour workshops, classes and Parties
Criola event is now spreading across the UK with a variety of dances & music that will be taught and played at our parties. These will include: Kizomba, Semba, Tarraxinha, Urban Kiz, Cabo Love, Urban Tarraxa, Funana, AfroHouse/Beats, Ghetto Zouk and more…
#kizombalondon #kizombabirmingham #kizombamusic #kizombaclasses
Перейти на главную