Costa Del Salsa 2024 – 11th-21st April 2024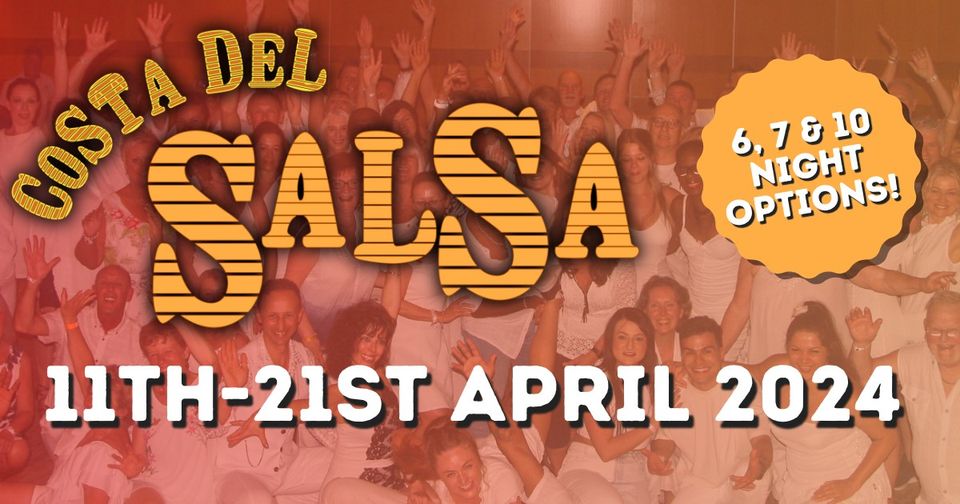 Танцы:
Сальса, Хастл, Кизомба, Бачата, Реггетон
Начало:
2024-04-11 07:00
Окончание:
2024-04-21 15:00
Мероприятие:
Вечеринка
Адрес:
Билеты:
https://gerryflynnevents.com/events/costa-del-salsa/
Описание:
We're back for another year of sunny salsa fun! ☀️🌊💃
💸 6 nights – main event (15-21 April) – £699/€803
💸 7 night option (14-21 April) – £799/€918
💸 10 nights option (11-21 April) – £1059/€1217
Don't want to pay a single supplement? Contact us about a room share!
Book your spot via our website:
ссылка
=============
✨ CHOICE OF 6, 7 OR 10 NIGHTS ✨
By popular demand, we have added the option of 7 or 10 nights, so you can extend your time in the sun!
Our main holiday will continue to take place as normal from 15-21 April, however, with additional days offered beforehand:
📆 7 night option (14-21 April)
📆 10 nights option (11-21 April)
For those of you who just can't get enough Costa Del Salsa, the first portion of the holiday will be a little bit of a warm-up for the main event.
From 11th-15th April, you will be joined by Rohan Brown, Rasa Pauzaite, Sagi Iluz and Piret Annus and your days will be filled with 2-3 hours of classes, some fun activities and an opportunity to soak up the sunshine. Every evening, we will dance the night away in local SBK club, Atreveté until the early hours of the morning! We will also participate in Atreveté's evening classes, giving you a chance to learn along with the locals before the main holiday begins!
=============
✨ WHAT TO EXPECT ✨
Under the expert stewardship of Piret Annus, you will enjoy a programme of over 50 classes, in cross body salsa, cuban salsa, rueda de casino, kizomba, bachata, cha cha, reggaeton, bachatango, Latin hustle, threesomes and more! And when the sun goes down, you can dance the night away at our social dances every evening, featuring amazing shows and entertainment.
=============
✨ WHAT'S INCLUDED ✨
💃 Meet & greet at Malaga Airport and transfer to the 4* Hotel Amaragua, Torremolinos.
💃 Choice of 10, 7 or 6 nights dinner, bed & breakfast
💃 Full beginners programme
💃 Amazing shows & entertainment every evening from top international entertainments team.
💃 Beach Games
💃 Poolside dancing each day
💃 White Party Night
💃 Fancy Dress Night
💃 Visits to local Salsa Clubs (optional) Thursday-Sunday
💃 Optional Daily Excursions
💃 Full time services of our event management team
=============
✨ TEACHERS ✨
Rohan Brown, Mauricio Reyes, Rasa Pauzaite, Sagi Iluz, Gabriel Bravo Rivera, Piret Annus, Paco & Lucie, Tony & Carolina, Adele, P&G Bachata
=============
✨ DJs ✨
DJ Hughie, Mauricio, Tony, Adele, Sagi, Guillermo
=============
Please note:
The entertainment featured is correct at the time of printing. In the unlikely event that an artist is unable to appear for whatever reason, then Gerry Flynn Events cannot be held responsible.
Flights are not included in this programme. All you then need to do is tell us the flight you have booked, and we will be at the airport to meet you and transfer you to the hotel.
On the other hand, if you would like us to book your flight for you, we will be delighted to help! Just call the office on 00 44 (0) 1254 44 50 50
Перейти на главную