CoBeatParty Live! #SALSARAVE – Barcelona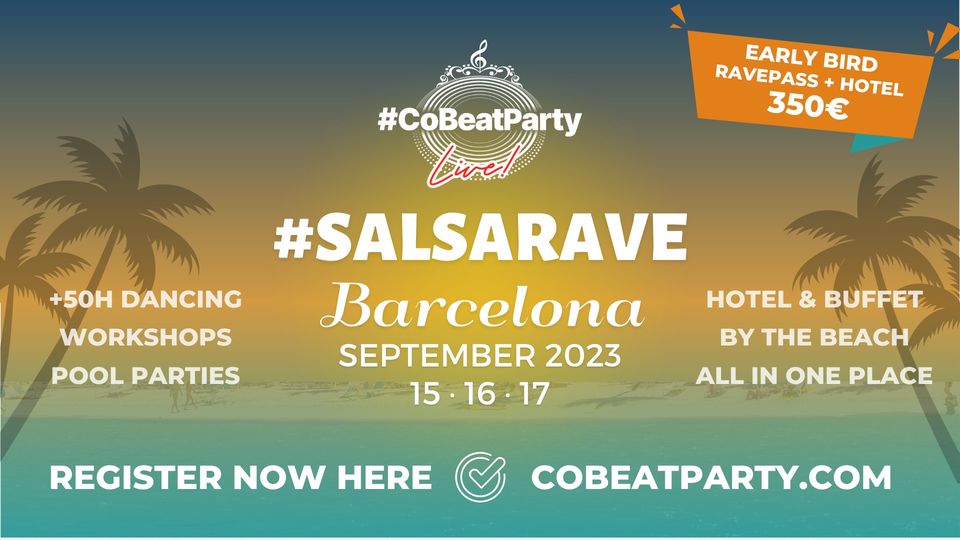 Танцы:
Сальса
Начало:
2023-09-15 18:00
Окончание:
2023-09-17 23:45
Мероприятие:
Вечеринка
Адрес:
Warning
: mb_strpos(): Empty delimiter in
/home/admin/web/tofest.ru/public_html/wp-content/themes/avatarka/template-parts/content/content-single.php
on line
331
Hotel Don Angel Santa Susana
Билеты:
https://cobeatparty.com/
Описание:
The CoBeatParty Live Salsa Rave will be held in Barcelona at the Don Angel Hotel in Santa Susana by the beach
Everything is happening under one roof, amazing dance floor, great sound system super DJs, Dancing till 7 am every night, Music history and Musicality workshops and unbeatable full board price
The Early Bird Full Pass price includes:
-3 Nights Hotel
-Full Board Meals (Breakfast , Lunch , Dinner)
-Parties and Workshops pass
-Pool Parties Saturday & Sunday
-Barcelona City round trip Shuttle (Optional. Saturday & Sunday)
Registrations are now open to CoBeatParty Live! 2023 #salsarave
You can do it on our website: www.cobeatparty.com/registration
For the first 100 Followers & 100 Leaders we have a special Early Bird price!
Don't miss your spot and save money SalsaRaver! Register now!
Перейти на главную