Bakura Spring Weekender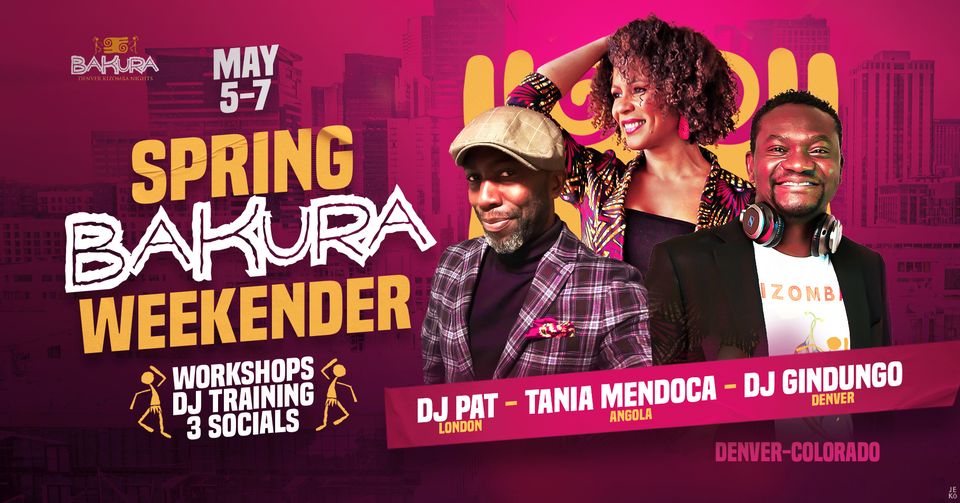 Танцы:
Сальса, Кизомба, Бачата
Начало:
2023-05-05 20:30
Окончание:
2023-05-07 17:00
Мероприятие:
Уикенд, Вечеринка, Уроки
Адрес:
Описание:
BAKURA SPRING WEEKENDER & DJ TRAINING
May 5-7, 2023
This is the Party you don't want to miss! Bakura Kizomba Nights is famous for is loving, family, train hard/ party hard atmosphere. Coming to Denver is a whole vibe and we can't wait to share special moments with all of you!
ARTIST LINEUP:
✨TANIA MENDONCA, ANGOLA/MIAMI - Dance Instructor
✨ PATRICK EQUAGOO, CONGO/LONDON aka DJ PAT - DJ and DJ Instructor
✨ ARIS ATAKEM, CHAD/DENVER aka DJ GINDUNGO - Resident DJ and Dance Instructor
✨TONINO CIDADE, ARIZONA/CAPE VERDE - Videographer and Founder of Kizomba Phoenix
🌍FRIDAY - MAY 5th
⭐️DENVER'S FAVORITE HOUSE PARTY
WHERE: Home Studio Malembe -3345 W 75th Place Westminster, CO
8:30PM-9:00PM Basics/Intermediate Class w/Tonino (Kizomba Phoenix)
9:00PM-1:00AM We Party, BAKURA STYLE! Featuring International DJ Pat from London, DJ Aris Gindungo playing Kizomba, Semba,UrbanKiz, Afrobeats, Konpa, CaboZouk, and even a lil' sum sum Salsa, Bachata and Hip Hop. Theme: African! Open Bar while it lasts!#iykyk 😉
🌍SATURDAY - MAY 6th
⭐️WORKSHOPS
WHERE: Colorado Dance Sport
6830 Broadway
Denver, CO
With International Instructor from Angola - Tania Mendonca
10:00AM-11:30AM Kizomba
11:45AM-1:15PM Semba
1:30PM-2:30PM Musicality & Culture
⭐️4:00PM - 7:00PM DJ TRAINING w/ DJ Pat (Equagoo from London)
with the opportunity to play live on Sunday!
WHERE: Home Studio Malembe 3345 W 75th Place Westminster, CO
⭐️EVENING SOCIAL featuring DJ Pat (London) & DJ Gindungo (Denver) - Theme: Red & White 🤍❤️🤍❤️
WHERE: Colorado Dance Sport
6830 Broadway, Denver CO 80221
Doors Open 9:45PM
10:00PM - 2:00AM - We Party, Bakura Style. Open Bar while supplies last.
🌍SUNDAY - MAY 7th
⭐️10:00AM-1:00PM - Nature Excursion to the beautiful Foothills of Boulder, CO - Meet at Home Studio Malembe with tennis or hiking shoes, sunscreen and water bottle. Sign up with Kizmara required so transportation can be arranged.
⭐️2:00PM-5:00PM - DAY SOCIAL
WHERE: Home Studio Malembe - 3345 W 75th Place Westminster, CO
Food, drinks, dancing and denial that the weekend is over. 🥹 DJ trainees will have the opportunity to play during this party!
🌍TICKET OPTIONS
Full Pass - $125
DJ Training Only - $200
Full Pass w/ DJ Training $300
Workshop Only- $75
Party Pass- $55 (Entrance into all 3 parties)
Fri Party Only - $20
Sat Party Only - $25
Sun Party Only - $20
TO REGISTER/PAYMENT OPTIONS
Venmo @Aris-Atakem (as Family/Friend) or
Zelle: 720 690 6771
🌍 Need Accommodations? We are happy to help.
Перейти на главную