Amsterdam Mambo Weekend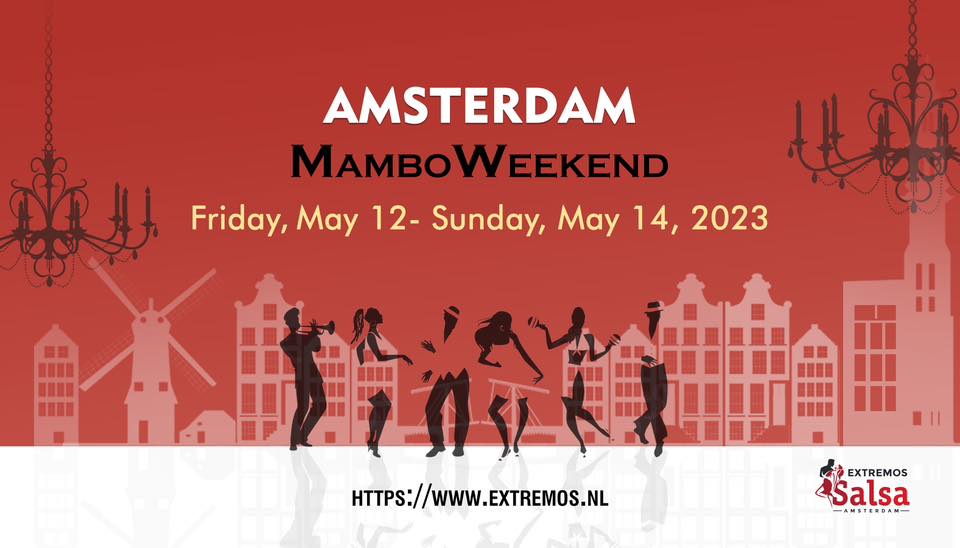 Танцы:
Сальса, Вкс, Бачата
Начало:
2023-05-12 22:00
Окончание:
2023-05-15 01:00
Мероприятие:
Уикенд, Фестиваль, Вечеринка, Уроки
Адрес:
Admiraal de Ruijterweg 56B
Описание:
Another edition of the Amsterdam Mambo Weekend! A spin-off of the Amsterdam Int. Salsa Festival, both organized by Extremos Salsa & Bachata!
This edition will - as always - feature amazing local and International dance instructors and performers.
Don't miss out and get your tickets asap!
Line Up So Far (but more to come)
=> Falco B & Leti (ES)
=> Jennifer Tsuha (IT)
=> Poetic Motion (NL)
=> Anne Elise (NL)
=> Martina Placeres (UY)
=> Aldo (VE)
=> Spotlight Project by Vivendi (NL)
=> Mambo Swing (NL)
=> Dj Daaf (NL)
=> Dj Randy Castilla (AU)
WORKSHOP SCHEDULE
SATURDAY
13:15 -14:15 | Aldo
14:30 - 15:30 | Falco B & Leti
15:45 - 16:45 | Anne Elise
17:00 - 18:00| Jennifer Tsuha
SUNDAY
13:15 -14:15 | Rodolfo & Kai
14:30 - 15:30 | Falco B & Tati
15:45 - 16:45 | Jennifer Tsuha
17:00 - 18:00| Andre & Martina
FULL PASS
valid for Party on Friday and Saturday, and workshops on Saturday and Sunday
In February: €80
In March: €85
In April: €90
In May: €100
At the door: €110
SATURDAY PASS
valid for Workshops and Party on Saturday
In February: €50
In March: €55
In April: €60
In May: €65
At the door: €75
SUNDAY PASS
valid for Workshops on Sunday
In February: €40
In March: €45
In April: €50
In May: €55
At the door: €65
Look for more info at www.extremos.nl
Перейти на главную