ADICTO: BBF24 (Berlin Bachata Festival)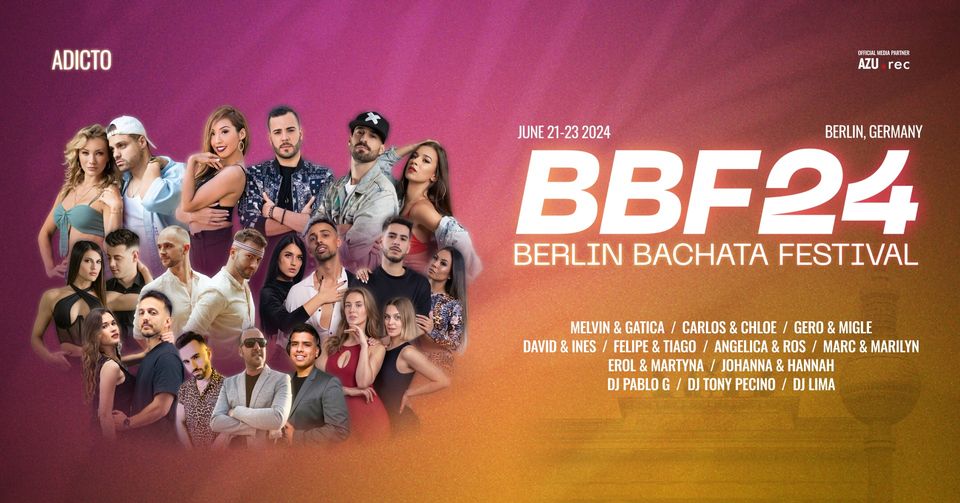 Танцы:
Бачата
Начало:
2024-06-21 20:00
Окончание:
2024-06-24 03:00
Мероприятие:
Фестиваль, Уроки
Адрес:
Билеты:
https://www.tickettailor.com/events/adicto/941591/r/facebook
Описание:
⭐⭐⭐ BBF24 ⭐⭐⭐
The highlight of our season 2023/2024 is Berlin Bachata Festival 2024 - BBF24.
📅 June 21-23 2024
📌 TBD
WHAT IS INCLUDED IN THE PACKAGE?
⭐ Workshops that push the boundaries of creativity and norms - we are proud to be the first event that introduced concepts like Role Rotation and genderless Styling to Berlin. Many more to follow
⭐ ADICTO intimacy - no need to rush to the front line to get a good spot in the workshops, at ADICTO, you are in direct contact with the artists - they are human, not celebrities
⭐ Unique Fusion Lineup - considered one of the best Bachata Fusion lineups, we select artists that represent a wide range of styles and concepts. We carry the scene forward by supporting modern and diverse ideas, rather than just copying whatever is successful
⭐ BERLIN - we represent the capital of Berlin and its Bachata scene - diverse, multicultural, edgy, and exciting. It is the place to be this summer
EXTRAS*
TBD
* BOOTCAMPS AND MASTERCLASSES need to be purchased separately. Priority will be given to Full Pass holders and tickets will be available for everyone else only if spots are still available shortly before the event.
Any questions or feedback, send us a PM, and happy to help.
Interested in becoming an official ambassador to help us carry the Bachata scene another step into the future? We are waiting for your message. 🌅✨
🌈 At ADICTO, we defend inclusion and diversity. Our events are LGBTQ-friendly. If you notice anything that goes against this, please report it to us immediately.
𝗔𝗥𝗧𝗜𝗦𝗧𝗦:
INSTRUCTORS
⭐️ CARLOS & CHLOE
⭐️ GERO & MIGLE
⭐️ MELVIN & GATICA
⭐️ FELIPE Y TIAGO
⭐️ DAVID & INES
⭐️ MARC & MARILYN
⭐️ ANGELICA & ROS
⭐️ JOHANNA & HANNAH
⭐️ EROL & MARTYNA
DJs
🎧 TONY PECINO
🎧 PABLO G
🎧 LIMA
MEDIA TEAM
🎥 AZUR.RECORDS
SCHEDULE: TBA
Prices will increase based on the number of tickets sold and will be announced on our social media channels in advance. Last minute price increases on the day of the event are not subject to this condition.
Перейти на главную