13th Annual Australian Bachata Championship 2023 – 2 nights of comp, 2 nights of dancing!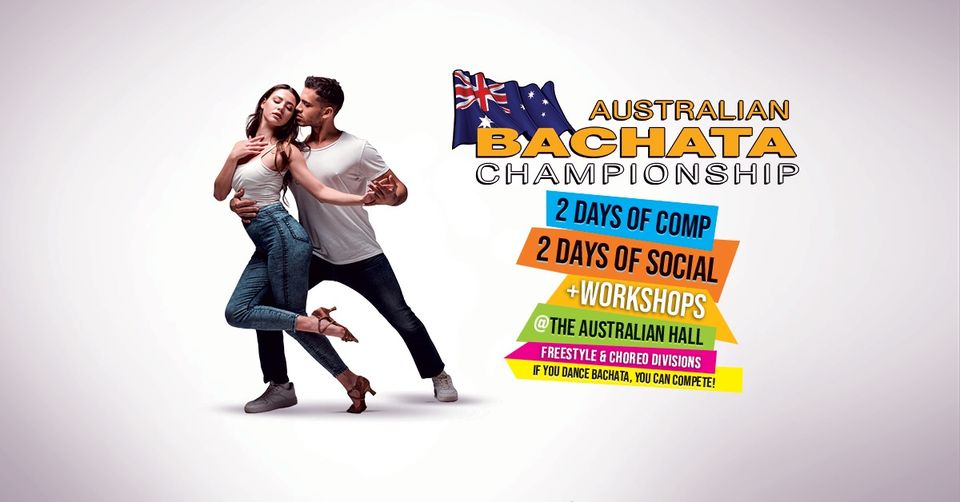 Танцы:
Бачата
Начало:
2023-10-06 15:00
Окончание:
2023-10-08 03:00
Мероприятие:
Конкурс, Вечеринка, Уроки
Адрес:
Билеты:
http://bachatachamp.au/
Описание:
The Australian Bachata Championship was established in 2008 and is the longest-running competition featuring the best Bachata dancers in the country competing for the title of Australian Bachata Champion. A lineup of some of Australia's newest and best dancers awaits spectators as they battle it out for over $3000 in prize money and national titles.
Each year we aim to bring you 2 quality nights of nail-biting competition along with amazing workshops and 5 hours of social dancing each night.
The competition is divided into two components, which are the choreography component, where teams and couples dance it out to win the best choreography prize, and the Jack and Jill Freestyle Competition, where dancers are paired up randomly and marked on their leading or following.
The choreography component will be held on the Friday, and the Jack and Jill Freestyle component will be held on the Saturday.
We have a beautiful heritage venue in the heart of Sydney CBD which boasts a high ceiling and a large wooden dance floor that will be beautifully prepared on the night which both dancers and spectators will enjoy.
The Championship is organised by Bachateame, Sydney's biggest Bachata night, which is led by two of Sydney's well know Latin Dance event promoters and organisers.
𝐅𝐫𝐢𝐝𝐚𝐲, 𝟕 𝐎𝐜𝐭𝐨𝐛𝐞𝐫 𝟐𝟎𝟐𝟐
17:00 - Doors Open
17:30 - Cultivating Connection Movements (Elyse and Chris)
18:15 - Isolations and Body Movements (Jason and Kelsi)
19:00 - Competition start time (Choreography Component)
21:00 - Awards Presentation
21:30 - TIll 3 am - Social dance Party (Bachateame ABC edition)
𝐒𝐚𝐭𝐮𝐫𝐝𝐚𝐲, 𝟖 𝐎𝐜𝐭𝐨𝐛𝐞𝐫 𝟐𝟎𝟐𝟐
16:00 - Doors Open
16:30 - Perfect Preps for Smoother Patterns (Jeremy and Anisa)
17:45 - Let Your Sensuality Flow (Ieva and Ayman)
18:30 - Doors Close for Comp Setup
19:00 - Competition Start Time (Jack and JIll Competition)
21:00 - Awards Presentation
21:30 - TIll 3 am - Social dance Party (THE GLOW PARTY PART 2!)
https://www.bachatachamp.au/
"𝙋𝙧𝙖𝙘𝙩𝙞𝙘𝙚 𝙡𝙞𝙠𝙚 𝙮𝙤𝙪'𝙫𝙚 𝙣𝙚𝙫𝙚𝙧 𝙬𝙤𝙣. 𝙋𝙚𝙧𝙛𝙤𝙧𝙢 𝙡𝙞𝙠𝙚 𝙮𝙤𝙪'𝙫𝙚 𝙣𝙚𝙫𝙚𝙧 𝙡𝙤𝙨𝙩." - 𝘽𝙚𝙧𝙣𝙖𝙧𝙙 𝙁. 𝘼𝙨𝙪𝙣𝙘𝙞𝙤𝙣
Перейти на главную